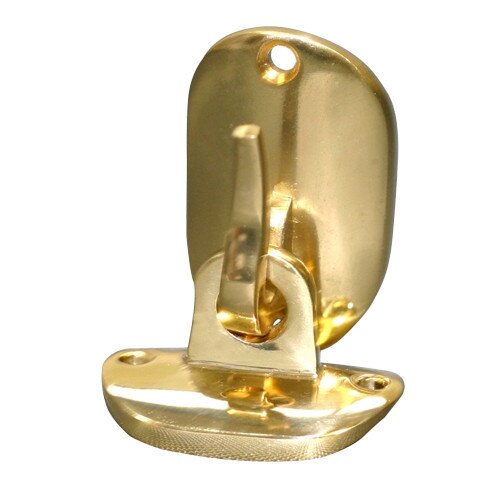 Brass Hook & Eye For Indoor Poles
Details
The Brass Hook and Eye for our indoor flagpoles is made of a durable, solid brass and will work perfectly with our solid indoor oak flagpoles and ceremonial oak banner poles. When purchased, you will receive both the hook and the eye for a total of 2 components. Each unit will include 4 screws, 2 screws for the hook and 2 for the eye. To order the Brass Hook and Eye set, please enter your desired quantity and click "Add to Cart". For more information, please see the description tab below.
Our Brass Hook and Eye set is a cost-effective way to change up your banner display. Measuring 1 5/8" tall, 1" wide and 5/8" deep, the brass hook component will maximize your display with a bright, luster while taking up minimal space on your indoor flagpole. The hook measures 1" and protrudes 5/8" allowing for secure placement of the eye while not extending too far from the pole. The eye opening features a 5/16" circular opening which sits perfectly onto the coordinating brass hook.
If you are in need of a banner to display on your ceremonial crossbar and pole set, Carrot-Top Industries can create your own custom banner to match the pole height and crossbar length of your choice. Pairing nicely with your custom podium banner which can also be completed at Carrot-Top Industries with the guidance of our knowledgeable Customer Service Team. A great addition to your indoor banner presentation are our indoor United States and State flag sets. Ideal for showing your American and State pride, these indoor sets are available with several pole options to fit your style. For more information or to inquire about the custom banner options available, please fill out our contact us form and one of our Customer Care Representatives will reach out to you!