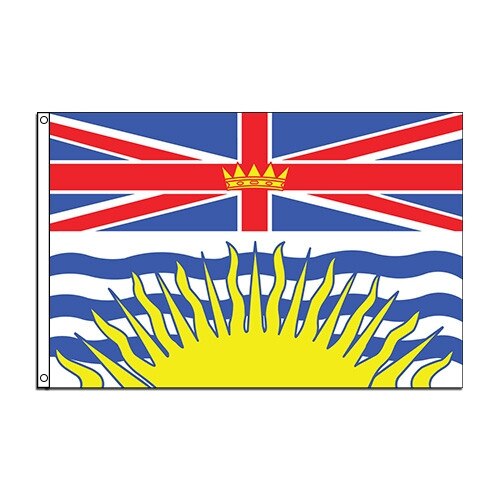 Details
Our British Columbia flags are fashioned with the finest materials showcase the Canadian province with impeccable craftsmanship, detailing and beauty.
Two sizes available" 3' x 5' and 3' x 6'
Finely woven, strong Solarguard® Nyl-Glo (Nylon) Flag resists sun damage
Lightweight nylon dries in minutes and waves beautifully in the slightest breeze
Designed for extended outdoor use
Top portion of Flag features a Union Jack design with a crown in the center
Bottom of flag showcases four white and three blue stripes with a large sun
Our British Columbia Flags meet the highest standards of craftsmanship and style. These finely detailed Canadian Province banners are tailored to meet both the Official Canadian Standards Ratio (1:2) which is 3'H x 6'W flag and the Industry Standard display ratio (2:3) which is the 3'H x 5'W. Select the size that best suits your display needs. Our British Columbia flags feature a single reverse image and are fitted with a strong canvass header. Solid Brass grommets allow for quick and easy attachment to and removal from your flagpole. The nylon used in the construction of these flags is 200 Denier Solarguard® Nylon which sparkles in the sunlight and waves effortlessly in the slightest breeze. Solarguard® Nylon resists damage from the sun, wind, dust and dirt.
The flag of British Columbia is based on the shield of the provincial arms of British Columbia which is the 1906 arms of the province designed by Anglican priest Canon Arthur John Beanhands of Victoria. The top of the flag features a version of the Royal Union flag defaced in the center by a crown. The setting sun in the lower half of the flag represents the province's location at the western end of Canada between the Pacific Ocean and the Rocky Mountains. The Sun also reflects the province's motto "Splendor sine occasu" (beauty that never diminishes"). The flag of British Columbia is very similar to the flag of the British Indian Territory and the flag of Suffolk County in the United Kingdom.
Carrot-Top's flags include a wide assortment of banners of nations from across the globe. Our flags include an impressive collection of Canada flags along with flags from each of the nation's 13 territories. We also supply sports flags which include Major League Baseball flags of teams like the Toronto Blue Jays. Shop Carrot-Top for great products and services. Our flagpoles are the finest available and include both indoor and parade sets as well as our outdoor commercial and residential flagpoles. For more information about any item or for assistance placing an order please fill out our contact us form and one of our Customer Care Representatives will be happy to get in touch with you!