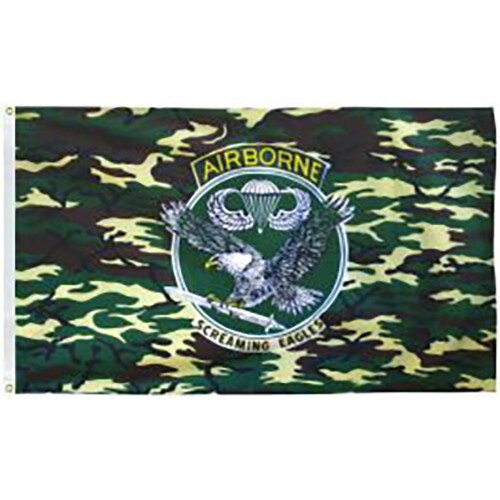 Camo Airborne - 3X5' Endura
Details
Our Camo Airborne flag, measuring 3x5', will display your traditional support with a more modern design. Made of strong, Endura Polyester, this flag includes a durable canvas heading and brass grommets making for easy installation. This flag is imported. To order, please enter your desired quantity and click "ADD TO CART". For more information on the Camo Airborne flag, please see our description tab below.
Our Polyester Camo Airborne flag features a full camouflage background with the Basic Parachutist badge, "Screaming Eagle" with sword insignia and lettering to signify that this is the flag of the Airborne Screaming Eagles formally known as the 101st Airborne Division. The Basic Parachutist badge is earned through the United States Army Airborne. Complete with a canvas heading and brass grommets, this flag can easily be used on your residential flagpole with snaphooks or on your Outrigger flagpole with our flag collars. A perfect gift for your United States Army Airborne Veteran, this novelty flag still offers the acknowledgement of the time and service given by our United States Army Airborne Division.
In addition to the Camo Airborne flag, Carrot-Top Industries also offers the 101st Airborne Division flag, Support our Troops flags in many variations as well as branch-specific Military items. Proudly made in the United States, our American flags are available in many sizes, styles and materials. Our cemetery marking flags, which are great when used with our grave markers, are also available to honor our Veterans and those who made the ultimate sacrifice to ensure that our freedom stays free. For more information on the Camo Airborne flag or any other products we offer, please fill out our contact us form and one of our Customer Care Representatives will be in touch with you!