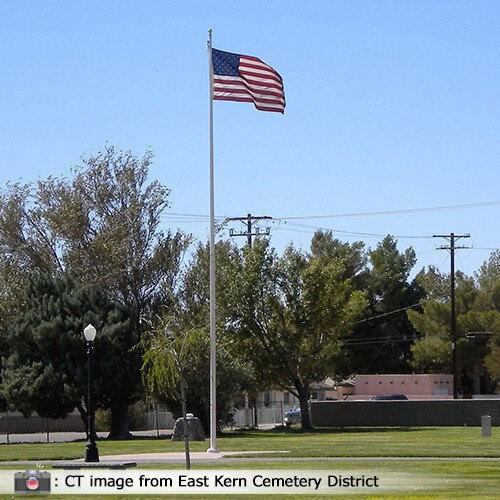 35' White Fiberglass Flagpole With Ground Sleeve
Details
Fiberglass flagpoles are a favorite for several reasons. They're strong but lightweight, they require practically no maintenance and their shiny gelcoat finish is resistant to cracking and fading.
Two-piece flagpole design is suitable for buildings 3 to 5 stories tall
Easy to install, with 4' ribbed PVC sleeve for mounting
Acorn-style top with revolving truck for flag
Flagpole tapers from 5.5" at the base to 2.5" at the top
Suitable for winds up to 120 mph (without the weight of a flag attached)
Do Not store flagpole in corrugated shipping materials; see more images or description below for details
Why Buy a 35' Ground Sleeve Fiberglass Flagpole?
Combining good looks with ease of setup, the 35' Ground Sleeve Fiberglass flagpole means that your flag is visible for long distances, making it a great flagpole for office buildings, neighborhoods, schools and public spaces. Unlike with an aluminum pole, a fiberglass flagpole won't corrode in the salt air of a coastal area. Fiberglass is also a non-conductive material, meaning it won't be hit by a lightning strike during a thunderstorm.
Comes with all you need for installation, including mounting hardware, a ribbed PVC ground sleeve for mounting, flash collar, 70' of ¼" halyard rope, two snaphooks and a cleat. A ground sleeve mounting system is secure and stable.
A 5' x 8' flag is recommended for the 35' Ground Sleeve Fiberglass flagpole; if you'd like to fly two flags, a 4' x 6' flag and 3' x 5' flag are recommended. Carrot-Top carries the polyester Patriarch® flag and nylon Beacon ® flag, both of which are a great match for this flagpole. Custom colors are available as special orders - just give us a call for pricing.
Questions? Please fill out our contact us form and one of our customer care representatives will reach out to you!
Be sure to remove your flagpole from the corrugated packaging. Do not store your flagpole while it is in the packaging as this will permanently stain your flagpole if it becomes wet. Check out these guides more details on Delivery and Installation or Repair and Maintenance.