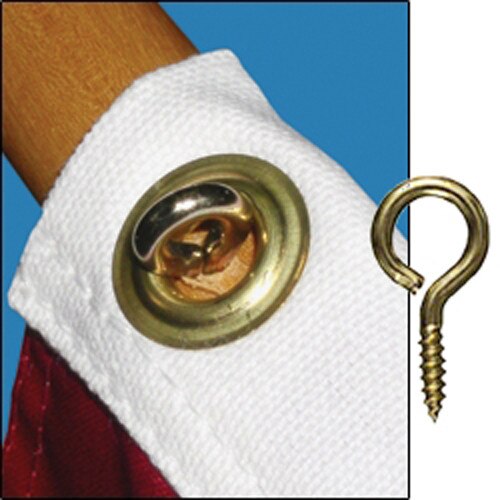 Details
Flagpole screweyes allow for flags with grommets to be attached to wooden poles. Theses screws are self-tapping screws, which means that they can be directly screwed on to any wood surface even when there is not pre-drilled area. These screws are sharpened to allow for easier drilling.
For more information about the screw eyes read the description tab below.
Our flagpole screweyes are made of solid brass and ideal for our indoor wooden flagpoles. The flagpole screweyes can be used to attach any flag with grommets to a wooden pole. The self-tapping screweyes can be drilled into the pole with ease and this ensures that the screweye can be removed and screwed back in with ease.
To use the screweye simply place the grommet and flag at a desired height and position on the flag and insert the screweye into the wood through the grommet and finger tighten to fasten the flag securely.
For more information about our flagpole screweyes or any of our other products send us a message using our contact us form. Our staff is backed by more than three decades of experience in the industry and ready to answer any question you might have.