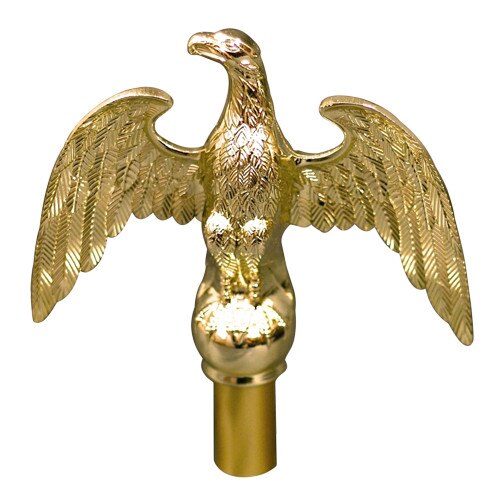 Details
Our gold finished plastic Eagle flagpole ornament is ideal if you are looking for a lightweight topper for your flag display. Made from durable ABS Styrene Plastic, this Eagle ornament is sure to last and provides an honorable and continuous finishing to your flag set. With a wingspan measurement of 7", this Eagle is perfect for the patriotic display you are looking to complete. To order this ornament, please enter your desired quantity below and click the "Add to Cart" button. For more information, please see the description tab below.
Our 7" gold finished plastic Eagle flagpole topper will provide years of display as the finishing piece to your patriotic flag display. This Eagle design symbolizes the boldness, strength and everlasting determination of the America and her people. Along with this design, other Eagles ornament topper styles are available. Please browse our Indoor Flagpole Ornaments selection to find the perfect finishing touch to your honorable United States flag display.
While our Eagle flagpole ornaments are a great finishing piece, you will also need the additional components to complete your flag display. Carrot-Top Industries proudly offers American made United States flags. For use with this ornament, the indoor style of flag will be needed. Available as a kit, we offer many styles of United States flag display. Please browse our Indoor United States flags to see the selection available. If you would like to create your own set, piece by piece, you will need to select your additional accessories which consist of a pole, floor stand and cord and tassel. In addition to your hardware set, an indoor style flag will be needed. For assistance with creating your own flag set or to inquire about our Ready-To-Ship pole sets, please fill out our contact us form and one of our Customer Care Representatives will reach out to you!