Indoor American Flag with Gold Fringe (or without)
Details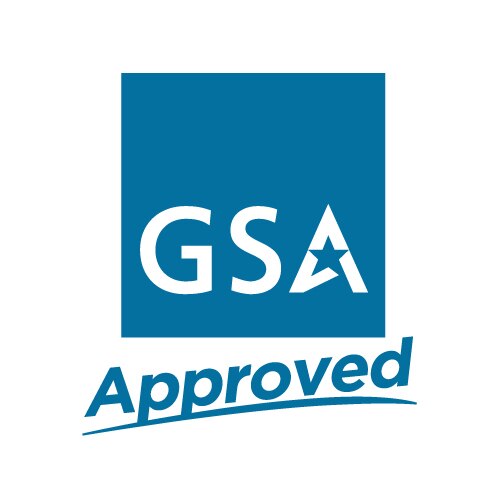 Full Product Details of our Gold Fringed American Flag:
Our Indoor American flag is made with high gloss, durable 100% nylon and features the finest quality and craftsmanship. These flags are made with durability in mind, so you can be sure that you are buying a product that will last for the long-haul. These American flags come standard with the following features:
High-quality commercial nylon dyed, colorfast and fade-resistant
Embroidered stars and hand-sewn stripes
Four rows of stitching on fly end; two rows on all other sides
Available with or without fringe
Features a pole sleeve, for easy attachment to a flagpole
S. Government GSA contract pricing available on select items

Made in the U.S.A.

See below for more details

Why Buy an Indoor American Flag?
Quality Craftsmanship
Our indoor American flag is made of nylon, a durable fabric that is ideal for a long-term, indoor display. This U.S. flag features densely embroidered, reinforced stars along with hand-sewn, lock-stitched stripes and a fray-resistant hem. These Gold Fringed American Flags are extremely easy to handle because of their lightweight fabric. In addition, our indoor American flags typically exceed the industry standard for lifespan of use.
Many Available Sizes for Every Occasion
Carrot-Top's indoor American flags are available in six sizes. After selecting the flag size that best meets your needs, consider pairing it with an indoor flagpole. Below are sizing recommendations for pairing indoor flags with flagpoles:
2' x 3' flag with a 6' flagpole
5' x 4' flag with a 7' flagpole
3' x 5' flag with a 7' to 8' flagpole
4' x 6' flag with a 9' flagpole
33' x 5.5' flag with a 9' flagpole
5' x 8' flag with a 12' flagpole
Available with or without Fringe
What do these American Flags with Gold Fringe Have to Offer?
Select an indoor American flag with gold fringe for a classic look. Our fringed American flag features bright gold rayon fringe, a cotton-lined pole sleeve and either a Velcro™ or a leather tab for fastening the flag to a flagpole. Gold Fringed American flags are often carried in parades, used in official ceremonies, and displayed in offices. Though it is not required, fringe enhances the beauty of the flag. Fringed indoor American flags have been unofficially used by the military and government for years.
Is a Flag Without Fringe a Better Option for Me?
Select an indoor American flag without fringe to either match an existing flag set or fit an existing indoor flagpole. Like our fringed flag, the pole sleeve of our non-fringed U.S. flag is lined with cotton for added strength, and it includes a tab inside the top of the sleeve so that the flag can be fastened easily to a flagpole.
Other Products Our Customers View?
Carrot-Top also offers a broad range of American flags and other flag-related products including: outdoor American flags, our best-selling Beacon® Nylon American Flags, as well as our best-selling Patriarch® Polyester American Flags,U.S. state flags, U.S. city flags and mini American flags.
Let Our Customer Care Team Assist You Today!
Carrot-Top Industries has more than 40 years of knowledge and experience and our Customer Care Professionals would be thrilled to assist you in placing an order or answering any questions you may have. You may order online or schedule a convenient time for a consultation through Contact Our Team. We look forward to hearing from you!