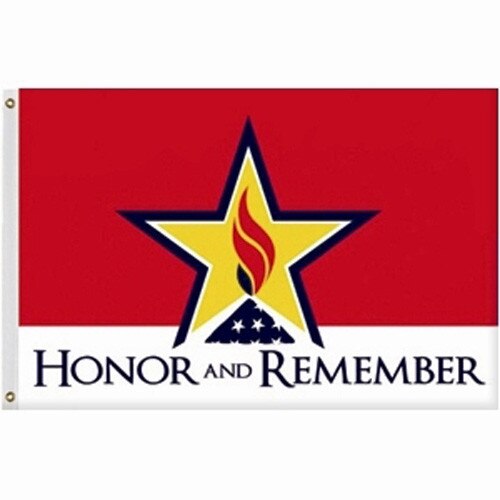 Details
Full Product Details for Our Honor and Remember Flag:
Throughout our nation's history, over 1.1 million Americans have made the ultimate sacrifice while serving our country. By displaying an Honor and Remember flag outside your home or business, you create a timeless tribute that beautifully honors the memory of these fallen heroes. These expertly crafted flags are rich in symbolism and can be hung on your porch, wall, or in-ground flagpole using halyard rope. This poignant gesture serves as a powerful and ever-present reminder of the profound sacrifices made in the name of American freedom. See bullet points for more information.


Crafted from lightweight 200-denier nylon that flutters effortlessly in gentle breezes

Creates a stunning porch flag or wall-mounted flagpole display

Features brass grommets and a canvas heading for easily hoisting to your flagpole

Single reverse finish — reads correctly on one side and reverse on the other

Comes in three popular sizes: 2'x3', 3'x5', and 4'x6'




Why Buy Our Honor and Remember Flag?
Honor and Remember Flags are meaningful symbols, with each part holding deep significance. These flags provide a touching tribute to fallen service members, honoring their sacrifice.


These flags are made from lightweight nylon, a sturdy material that stands up to outdoor conditions. Nylon is our best all-around flag fabric because it resists fading, dries quickly, and is perfect for mild to moderate weather. It's also very light, making it safe for outrigger flagpoles without risk of damage.


These flags come in three sizes that work well in different settings. The 2'x3' size is suitable for your house and fits on a 5' flagpole or under a 3'x5' American flag on a 20' flagpole. The 3'x5' size is the most popular and works on 6' flagpoles or 20' in-ground poles. For businesses, there's a 4'x6' size for 20' or 25' poles. Elevate your tribute with these flags; order yours now to show your respect and patriotism.


What is the Meaning Behind the Honor and Remember Flag?
Each element of the flag carries unique significance.



The Red color on the flag represents the blood shed by U.S military men and women throughout its history.
The blue star represents the generations of soldiers since the American Revolution.
The White border symbolizes purity. The sacrifice of one's life is seen as the purest and the greatest commitment an American can pay to their country.
The Gold Star is another symbol of the sacrifice a soldier makes. The color gold symbolizes the invaluable worth of each soldier's life.
The Folded Flag beneath the star assembly signifies the final tribute to each lost life.
The Flame is an image of the undying spirit of each soldier's life. The flame is the eternal impact each soldier makes on the people around him and represents all the memories held near and dear by loved ones.
Other FAQs - Honor and Remember Flag

Continue reading to learn how to fly the Honor and Remember Flag properly — or contact our Flag Pros for help choosing the ideal Support Our Troops Flag for your goals.


1. Can I fly the Honor and Remember Flag alongside the American flag?

Yes, you can display this Flag alongside the American flag. It is recommended to follow proper flag etiquette, which typically involves flying an American flag that is at least one size larger above the Honor and Remember Flag when on the same pole.


2. Is the Honor and Remember Flag an official government flag?

No, the Honor and Remember Flag is not an official government flag. It is a grassroots initiative created to honor and remember fallen military service members and their families. It has gained widespread recognition and support across the United States.


3. What holidays are appropriate to fly my Honor and Remember Flag?


You can fly the said flag daily or just on special occasions like Memorial Day and Veterans Day. It's worth noting that flying your flag daily may lead to quicker wear and tear, necessitating replacement ~once a year.


4. How many soldiers have died in U.S. military conflicts?

Since the USA's inception, more than 1.1 soldiers have died during active service to our U.S. military. The deadliest military conflicts were the Civil War (498,332 deaths), World War II (405,399), World War I (116,516), the Vietnam War (90,220), and the Korean War (54,246).


5. How else can I honor fallen soldiers?


Honor and Remember, Inc. provides free Honor and Remember custom flags with your loved one's name and date of death. Those who wish to get involved with the Honor and Remember Organization can sponsor a flag, participate in a Run for the Fallen, or volunteer with their organization to help give back to Gold Star families.


Other Veterans Flags We Sell
Carrot-Top sells veterans' flags and Support Our Troops Flags representing many conflicts and armed forces branches. In addition to our armed services garden flags and officially licensed military flags, our blue and gold star service banners make excellent gifts for active-duty military families. Shop online to discover our collection of United States Armed Forces flags.


See Our Full Range of Patriotic Products!
Discover Carrot-Top Industries, your premier source for American flags. Our Beacon® Nylon American Flag, an emblem of quality and patriotism, perfectly complements our Honor and Remember flags as well as any other nylon veteran flags. For expert guidance on choosing the right flag for your needs, reach out to our knowledgeable Flag Pros today via our contact us form. Elevate your flag display with Carrot-Top, where quality meets tradition.