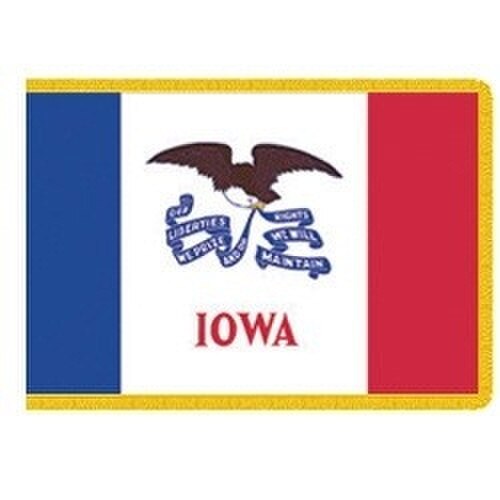 Details
Indoor Iowa flags are made with the highest quality materials and showcase bright, bold colors and superior craftsmanship. These flags are fashioned in our exclusive Beacon® nylon and feature exquisite stitching. Indoor flags are available in a variety of sizes to fit your flagpole's height and location needs. For more information about or Indoor Iowa Flag see the description tab below.
Indoor Iowa flags are finished with a lined pole sleeve along the left side and traditional gold fringe around the three remaining sides. Size options include the 3'x 5 'Iowa flag and the 4'x 6' Iowa flag. Both flags pair perfectly with our Majestic Telescopic Pole, another Carrot Top exclusive brand. The 3''x 5' flag creates a classic display with our 8' Jointed Oak finished pole. The 4' x 6'Iowa flag also exhibits superbly with our 9 ' Jointed Oak finished pole.
Carrot Top offers a wide range of patriotic products including American flags in several sizes and fabrics. Our Patriarch® polyester American flag is made with tough woven, 2-ply polyester. Patriarch flags have an unmatched strength yet still retain the texture and feel of cotton. Beacon® nylon American flag are made with strong, durable nylon that is both extra-tough and lightweight. Beacon® flags fly beautifully in the air and have incredible durability. Carrot Top also provides flags of US Cities, mini American flags and mini Iowa flags. Our team of customer service representatives has over three decades of experience and is eager to assist you in obtaining the right product for your location and display. For further details, please fill out our contact us form and one of our Customer Care Representatives will be in touch with you.