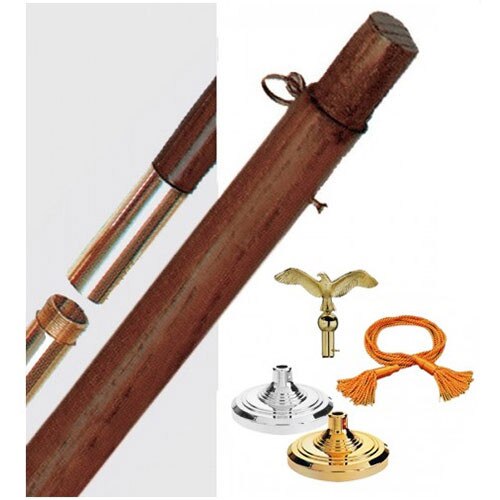 Oak-Finished Jointed Flagpole Sets (No Flag)
Details
Oak-Finished Jointed Flagpole Sets are made for indoor and parade use. These sets closely resemble indoor sets that were used throughout the years for indoor flag displays.
Perfect way to match your existing traditional sets and add your own business, organization or school flag!
Traditional hard-wood poles have an Oak-Finish which gives it a deeper color for added grandeur
Sets are available with brass features and an 7', 8', 9' or 12' pole or with silver features in an 8' or 9' pole
Flagpole sets include a flagpole ornament, a gold tassel and a weighted-base to keep the display upright. Flags are sold separately.
Jointed Oak-Finished Pole Sets features a hard-wood oak finished flag pole. The oak-finished flagpoles are widely considered as the traditional flagpoles and are often used in official ceremonies and displays. The pole sets are available with an 7', 8', 9' and 12' brass jointed pole or an 8' or 9' silver jointed pole. The 8' and 9' poles come with an 8lbs base and the 12' pole comes with a 15lbs base. The 8' indoor sets require a ceiling clearance of 8.5' and are recommended to be used with 3x5' flags, the 9' poles are best used in rooms with a ceiling clearance of at least 9.5' and best used with flags measuring 4x6' or smaller. The 12' poles require a minimum ceiling clearance of 12.5' and are intended for use with flags measuring 5x8' or smaller.
The sets include your choice of an ornamental eagle or spear, a gold tassel and weighted base. For parade use fasten the flagpole ornament with the provided wood screw.
*Flags not included with set*