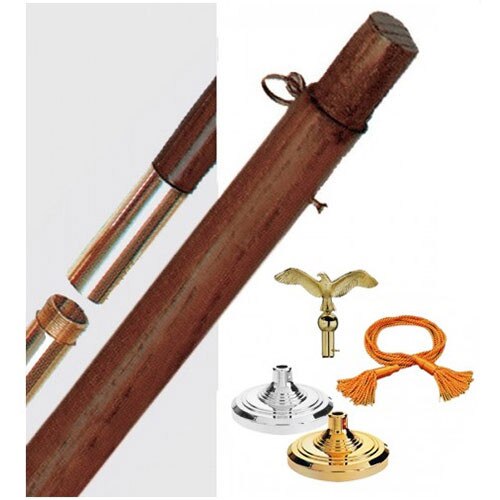 Indoor Oak-Finished Jointed Flagpole Sets (No Flag)
Details
Full Product Details of Our Jointed Flagpole Set:


Oak-Finished Jointed Flagpole Sets are made for indoor and parade use. These sets closely resemble indoor sets that were used throughout the years for indoor flag displays.


Perfect way to match your existing traditional sets and add your own business, organization or school flag!
Traditional hard-wood poles have an oak-finish which gives it a deeper color for added grandeur
Sets are available with brass features and an 7', 8', 9' or 12' pole or with silver features in an 8' or 9' pole
Flagpole sets include a flagpole ornament, a gold tassel and a weighted-base to keep the display upright.

Flags are sold separately.




Why Should You Consider Buying This Indoor Flagpole Set?


Our jointed oak-finished pole sets feature a hard-wood oak-finished flag pole. The oak-finished flagpoles are widely considered as the traditional flagpoles and are often used in official ceremonies and displays. The pole sets are available with an 7', 8', 9' and 12' brass jointed pole or an 8' or 9' silver jointed pole. The 8' and 9' poles come with an 8lbs base and the 12' pole comes with a 15lbs base. The 8' indoor sets require a ceiling clearance of 8.5' and are recommended to be used with 3x5' flags, the 9' poles are best used in rooms with a ceiling clearance of at least 9.5' and best used with flags measuring 4x6' or smaller. The 12' poles require a minimum ceiling clearance of 12.5' and are intended for use with flags measuring 5x8' or smaller.


The sets include your choice of an ornamental eagle or spear, a gold tassel and weighted base. For parade use fasten the flagpole ornament with the provided wood screw. Please note that flags not included with set.


Explore other Indoor/Parade Flagpoles Options!


Indoor and parade flagpoles are great options for displaying flags in settings where a traditional outdoor flagpole may not be suitable. There are a variety of flagpoles designed specifically for indoor and parade use. Visit our Indoor & Parade Flagpoles category to view the complete list of products.


Some indoor and parade flagpoles even come with adjustable heights or telescoping features, making them versatile options for a range of display needs. Additionally, these types of flagpoles can be customized with a range of flagpole accessories, such as ornamental tops or flag stands, to create a unique and personalized display. Exploring the many indoor and parade flagpole options can help you find the perfect solution for your flag display needs.


Why Buy Your Indoor Flagpoles from Carrot-Top Industries?


At Carrot-Top Industries, we take great pride in providing our customers with top-quality indoor flagpoles. With a diverse selection of flagpoles available in various materials, sizes, and styles, we offer something for every need and budget. Whether you're looking for a traditional wooden flagpole or a modern aluminum design, Our Flag Pros is here to help you find the perfect fit. When you choose Carrot-Top Industries, you can rest assured that you're getting a reliable and durable product that will stand the test of time. For any questions, please reach out to us using our contact form.