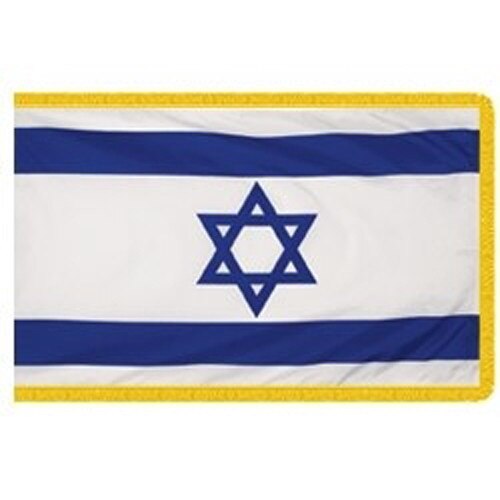 Details
Indoor Israel flags create beautiful displays with a classic look. These flags are great expression of support and faith and make great gifts to share with others for holiday or celebrations. Our Indoor Israel flags are crafted with superior nylon and showcase deep blue stripes and the Star of David on a pure white field. These flags are available in two sizes. For more information about Indoor Israel flags see the description tab below.
Indoor Israel flags are fashioned with beautifully woven nylon that looks amazing in almost any location. Whether for your home, synagogue, temple, Yeshiva, school or business, these flags boldly express one's faith and support for Israel. Our Indoor Israel flags are fashioned with a lined pole sleeve and plush, traditional gold fringe. Flags measure 3'x5' and 4'x6'. 3'x5' Israel flags are best displayed with an 8' indoor or parade flagpole, while 4' x 6' flags match best with a 9' indoor or parade flagpole. Both flags create perfect displays with our adjustable and exclusive 5-9' Majestic Telescopic Pole. Carrot-Top also provides Star of David Lapel Pins and Star of David Flag pole Toppers.
Carrot-Top takes great pride in its 35 yearlong traditions of supplying the finest products. Our flags, custom products, and patriotic items must meet the highest standards. Be sure to shop our complete collection of flags which includes American flags, US State and City flags, sports flags, and novelty flags.