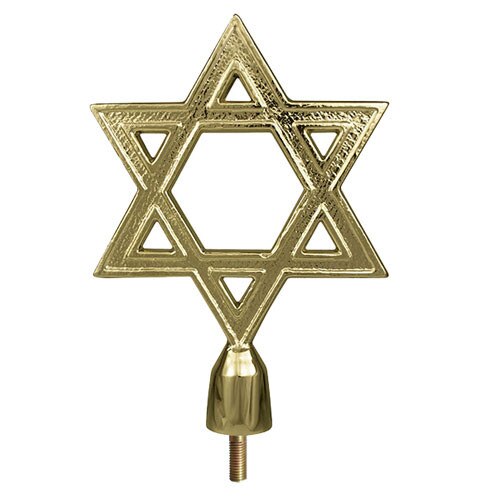 Star Of David Flag Pole Topper
Details
The Star of David flag pole topper is an extremely versatile flag pole ornament. These flag pole toppers come with an attached spindle that allows it to be attached to outdoor flag pole trucks for a brilliant display. They can also be used for indoor flag poles with a ferrule.
For more information and size specifications for the Star of David flag pole topper see the description tab below the product selection options.
The Star of David flag pole topper can be used with both indoor and outdoor flag poles. Although fitted with a spindle at purchase, the Star of David flag pole topper can accommodate a ferrule as well. With an attached ferrule the ornament can be placed on top of an indoor flag pole or parade pole.
The star is made of gold plated aluminum, ideal for outdoor use. Aluminum accessories do not rust and can be used in all weather conditions for long term displays. The star featured on the flag pole topper measures 5"x5" at its widest points and has a thickness of ¼". The star is attached to a spindle with a diameter of ½" and is 2¾" tall. The Star of David flag pole topper is recommended to be used with a 20' outdoor flagpole or smaller.
Carrot-Top prides itself on being a one-stop shop for flag displays. See our exclusive American flags the Beacon ® nylon American flag and our Patriarch® polyester American flag. Also see our industrial flag poles and residential flagpoles for outdoor flag displays. Our Majestic™ Commercial flagpole, Architectural flagpole and light commercial flagpole are exclusive Carrot-top products. The Commercial and architectural flagpoles come with our lifetime guarantee. For more information about the Star of David flag pole topper please fill out our contact us form and one of our customer care representatives will reach out to you!