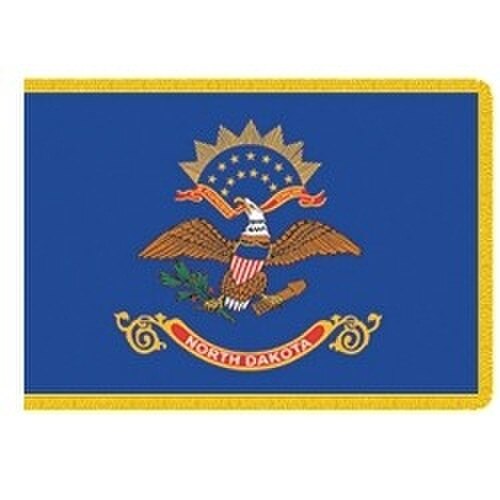 Indoor North Dakota Flags
Details
Indoor North Dakota flags create distinguished and professional displays of the North Dakota flag in your home, office, church, school or building. These flags feature a lined pole sleeve and plush gold fringe around three sides. All Carrot Top flags feature bold, bright colors and exquisite, reinforced stitching. For more information about our Indoor North Dakota flags see the description tab below.
Indoor North Dakota flag are made with the highest quality materials and tailored in our exclusive Beacon® Nylon. These flags are available in two sizes- 3'x5' and 4'x6'. Both flags perfectly match our exclusive and adjustable Majestic® Telescopic Pole. The 3'x5' North Dakota flag also pairs well with our 8' Jointed Oak finished pole and the 9' Jointed Oak Pole should be used to display the 4'x6' North Dakota flag.
Carrot Top is committed to providing the superior products as our custom items and flags are constructed to exceed our customer's expectations. Our American flags are the finest flags available and include the Patriarch® Polyester American flag and the Beacon® Nylon American flag. Carrot Top also has mini American flags, NFL team flag and NCAA College Sports flags.