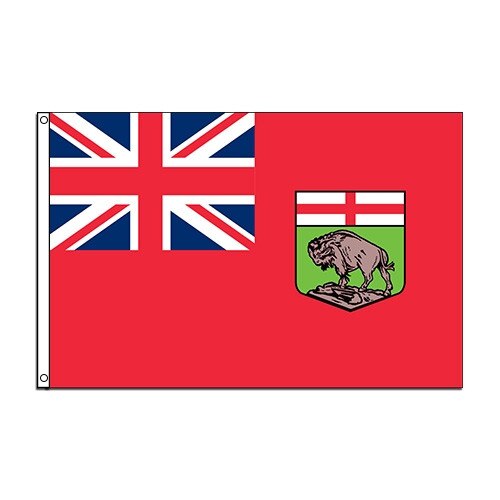 Details
Our Manitoba flags represent the Canadian province with a colorful flag that links the residents of the province the rich heritage.
Perfect to display at homes, school, museums, churches or businesses
Option of Two sizes: 3' x 5'and 3' x 6'
Fashioned with the top-quality Solarguard® Nylon
Vibrant Red flag with the Union in the top left and shield logo on the fly end
Tailored intricate lock stitching to resist fraying
Our Manitoba flags are fashioned with the finest materials and showcase superior craftsmanship. The flags feature woven nylon that is super strong yet still lightweight. Our Canadian province flags dry in minutes and wave effortlessly in the slightest breeze. These impressive provincial banners are fitted with an incredibly sturdy canvas header and solid brass grommets which allow for quick and easy attachment to and removal from most flagpoles. Carrot-Top provides flags in two sizes which meet the industry standards- 3'x 5' as well as 3'x 6' flags which meet the official Canadian Standard Ratio of 1: 2. Our flag collection contains Canadian flags in several sizes as well as flag from all thirteen flags of Canada's provinces and territories. Our flags are made with vibrant colors and intricate, reinforced lock stitching.
Carrot-Top fashions a broad spectrum of products that includes products from around the world. Our International flags are unparalleled in performance and appearance. Browse our collection of residential flagpoles for great display options for your home, office, school or any other location. For further details, please fill out our contact us form and one of our Customer Care Representatives will be in touch with you.