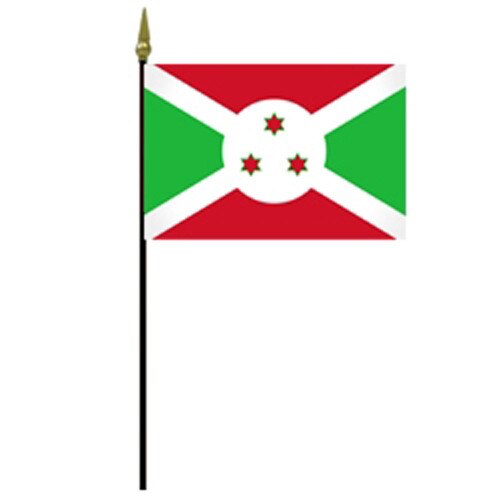 Details
HOW TO ORDER CORRECT QUANTITY: QTY 1 = 12 FLAGS
The mini Burundi flag is an exact recreation of the official Burundi flag as stated in law by the Government of Burundi.
The flags come mounted on black staffs
Mini Burundi flags are made of 70 denier nylon
Flags measure 4"x6"
The mini Burundi flag is a great way to celebrate the nation of Burundi and its people. These flags are perfect for use as giveaways at national events and rallies. These mini flags are made of 70 denier nylon material a light weight flag fabric. The mini Burundi flags come attached to a black plastic staff and it comes finished with a spear top for added aesthetic effect.
The mini Burundi flags feature the official design of the flag of Burundi with its white background and four triangle design. The flag is divided in to four triangles by a white St. Andrew's cross. The two triangles on the sides are colored green and represents hope while the other two are red and represent the struggle for independence. The center of the flag consists of a white circle with three six pointed stars that are said to represent the motto of the country and the three main ethnic groups that make up its population.
See our Outdoor Burundi flag and the indoor fringed Burundi flag for professional flag displays in all-weather conditions. Couple a mini Burundi flag with our mini flag accessories. We supply a large range of International flags from every corner of the world. In addition to these products we offer many different types of American flags, Flag poles, custom made products and many different event and property management items. For more detailed information please fill out our contact us form!