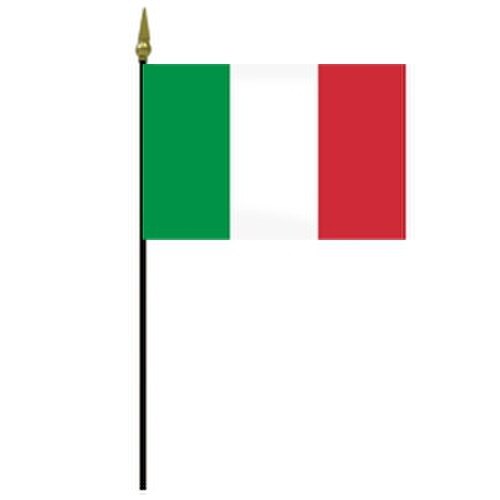 Details
HOW TO ORDER CORRECT QUANTITY: QTY 1 = 12 FLAGS
Mini Italy flag are a fun way to show your love, support and pride for Italy. These flags are great for celebrations and parades. Mini Italy flags feature exquisite lock stitching and bold red, white and green colors. For more information about our Mini Italy flags see the description tab below.
Mini 70 denier nylon Italy flags are sized 4" x 6". These flags are attached to a black plastic staff or dowel. The staff size of the mini flag is 10" x 3/16". Mini flags make great gifts at any age as they have timeless appeal. Show and share your love for Italy with this mini Italy flag.
Carrot Top strives to exceed our customer's expectations with the finest products and superior customer service. Our American flags are the some of the finest flags available and include our exclusive flags, the Beacon® Nylon American flag and the Patriarch® Polyester American flag. Carrot fashions custom products like signs, decals table covers that may showcase your city, town, business and school.
Pair your Mini Italy flag with one of our Italian flags. Carry your hopes for Italy close to your heart with our Italy flag patch and Italy flag lapel pin. For more information about our Mini Italy flags, or any Carrot Top item please fill out our contact us form and a representative will be in contact with you!