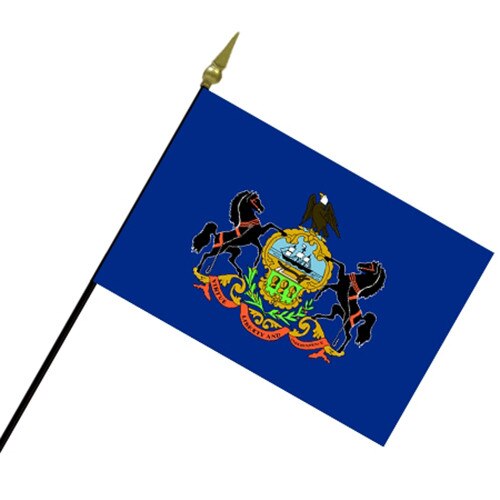 Mini Pennsylvania State Flags
Details
HOW TO ORDER CORRECT QUANTITY FOR 4" X 6": QTY 1 = 12 FLAGS. OTHER SIZES SOLD INDIVIDUALLY.
Mini Pennsylvania flags make patriotism fun. These hand held flags feature the state shield of Pennsylvania in bright, bold fade resistant colors. Mini flags are available in two sizes and feature reinforced lock stitching to extend use. Mini Pennsylvania flags are priced affordably to share with others. For more information about our Mini Pennsylvania flags see the description tab below.
Mini 70 denier nylon Pennsylvania flags are available in two sizes: 4" x 6" and 8" x 12" and are mounted on a black plastic staff. The 4'x6' Pennsylvania flag has a staff size of 10" x 3/16" and the 8" x 12" mini flag has a staff size of 18" x ¼". A 1 hole wood table base creates a sleek mini display with the 8" x 12" flag. These displays look great on tables, shelves and desks. Quantity discounts are available.
Carrot Top provides custom, flag and patriotic products for everything from onetime occasions to permanent displays. Our talented graphic artists are skilled in recreating your images and logos for use on signs, decals, and street banners. Our custom products are tailored to meet your specific needs. Carrot Top also provides a vast array of flag products including American flags in several sizes and a variety of fabrics. Our Patriarch® Polyester American flag and our Beacon® nylon American flag are two of the finest flags obtainable. Get a Pittsburgh City flag from our collection of US City flags. Carrot Top also supplies NFL Team flags which allow you to show your support for the Pittsburgh Steelers or the Philadelphia Eagles. For further details, please fill out our contact us form and one of our Customer Care Representatives will be in touch with you.