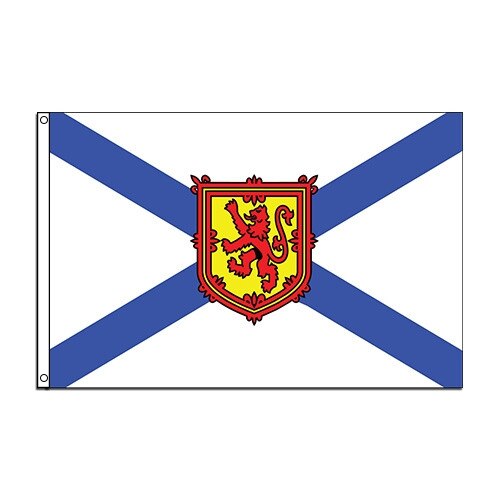 Details
Nova Scotia Nylon flags are tailored with detailed stitching, bold vibrant colors and superior craftsmanship. These province flags are made to last.
3' x 6' size meets official Canadian size Ratio (1:2)
3' x 5' meets Industry Standard Ratio (2:3)
Single Reverse image on one side of flag
Perfect for Display at location
Show your support and pride for Nova Scotia
Nova Scotia flags honor the Canadian province with a classic and distinguished flag which highlights the tradition and heritage of the province's relatives. Fashioned in two sizes to meet both the Official Canadian Size Ratio (3'x 6') and the Industry Standard Ratio (3' x 5'), choose the option that best fits your display needs. These flags are fitted with solid brass grommets which allow for easy attachment to and removal from the flagpole. The nylon used in production of this flag is 200 Denier Solarguard® Nylon (Nyl-Glo®) that is durable, lightweight and quick drying. These flags resist damage from the sun, wind, dust and dirt.
The flag of Nova Scotia was created in 1858. It is a banner of the coat of arms of Nova Scotia given to a Scottish colony by Charles I in 1625. The flag of the modern Canadian province contains a blue saltire on white filed with the royal arms of Scotland at the center. The flag bears similarity to the Scottish flag as it reverses the colors. Scotland's flag features a white saltire (St. Andrew's cross) on a blue field. The lion on Nova Scotia's flag is the royal arms of Scotland—a red lion rampart surrounded by a border decorated with fluers de lis. Nova Scotia is Latin for "New Scotland". Although the flag has been continuously used it was only recognized as the provincial flag in May 2013 when an 11 year-old realized that no one had recognized the flag in 155 years of usage.
Carrot-Top's offers an extremely impressive collection of flags which include flags from nations in every corner of the globe. Our selection of flags includes Canada flags of all sizes and varieties as well as flags of all ten of Canada's Provincial flags and all three Canada Territory flags. Shop Carrot-Top for other novelty flags such as Major League Baseball flags of teams like the Toronto Blue Jays and Olympic flags. Our American flags are some of the finest flags available and include our Beacon® Nylon American flagandPatriarch® Polyester American flag. For further details, please fill out our contact us form and one of our Customer Care Representatives will be in touch with you.