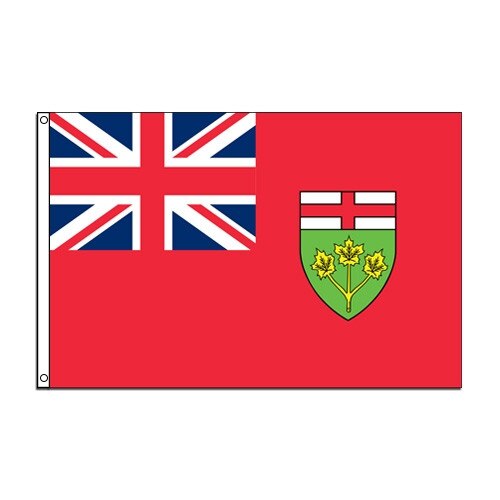 Details
Our Ontario flags display a bold red field that features the Union Jack in the upper left corner and the shield of the provincial Coat of Arms. These flags were the first in Canada to showcase the maple leaf.
Ontario Provincial Banners are:
Fashioned with strong, premium Solarguard® nylon
Single reverse images on an elegant red background
Available in 2 Official Sizes to fit your flagpole:
3'x 6' for proper display with Canada national flag
3' x 5' standard industry size suitable for homes, schools, buildings and churches
Fitted with strong canvas header and brass grommets
Durable, lightweight and quick drying
Show your support, love and pride for Ontario
Ontario flags are crafted with the finest materials and showcase a banner that reflects the province's ties to the British as well as the shield of arms for Ontario. The provincial flags meet Carrot-Top's standards of excellence and are tailored long term outdoor use. The flag's strong canvas header and brass grommets make the flag extremely easy to add to as well as remove from your flagpole.
The Ontario flag was assented to by the legislature and approved by Queen Elizabeth II in 1965. The province's banner is a Red Ensign or British Naval flag that showcase the Union Jack on one side and the Ontario Shield of Arms on the other. The Union Jack contains St. George's Cross while the Ontario shield displays three gold maple leaves. The maple leaf the symbol for Canada. These lightweight flags dry quickly and fly effortlessly in the slightest breeze. Our nylon Province flags are recommended for use in areas with light to moderate winds.
Carrot-Top offers flags from each of Canada's 13 provinces and territories as well as Canada flags in a variety of sizes. Our collection of international flags includes an impressive number of banners from all over the globe. Carrot-Top prides itself on providing only the highest quality products and items. For further details, please fill out our contact us form and one of our Customer Care Representatives will be in touch with you.