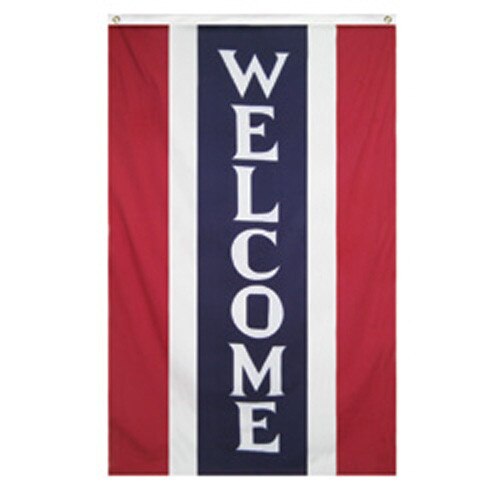 Patriotic Welcome Flag Banner
Details
Carrot Top's Patriotic Welcome flag Banners greet your guests with a wave of American patriotism. Carrot Top's red, white and blue Welcome Banners allow your guests to feel American pride the moment they walk through the door, travel down the street or whenever they see it. Our Patriotic Welcome Flag banners are perfect for events, cities and towns, businesses, churches and homes. Welcome banners are available in your choice of either cotton or nylon material. The Patriotic Welcome Flag banners are printed with bright, fade resistant colors and are fashioned for long term displays. For more information about our Patriotic Welcome Flag banners see the description tab below.
Our Patriotic Welcome Flag banners will make your guests, family and friends smile with American pride and patriotism. These vertical 5'x3' patriotic banners feature a sturdy canvas header and metal grommets for quick and easy installation and movement. Nylon patriotic welcome banners are crafted with durable but lightweight materials that are built to last yet allow for movement in the slightest breeze. Nylon Welcome banners are designed for outdoor use. Cotton Patriotic Welcome Banners are traditional and intended for indoor use only as the cotton may bleed if the flag banners get wet. Patriotic Welcome flag Banners will fill all who see them with American pride.
Carrot Top offers a broad range of patriotic items including fans and bunting, American flags of all sizes. We proudly feature our exclusive brands Patriarch® polyester American flags and Beacon® nylon American flags. Mini American flags and lapel pins are an inexpensive way to share your patriotic heritage with others. Carrot Top also provides custom products like patriotic street banners and signs to meet your needs. Whether for a onetime event or for long terms displays, Carrot Top is committed to courteous and professional customer service. For further details, please fill out our contact us form and one of our Customer Care Representatives will be in touch with you.