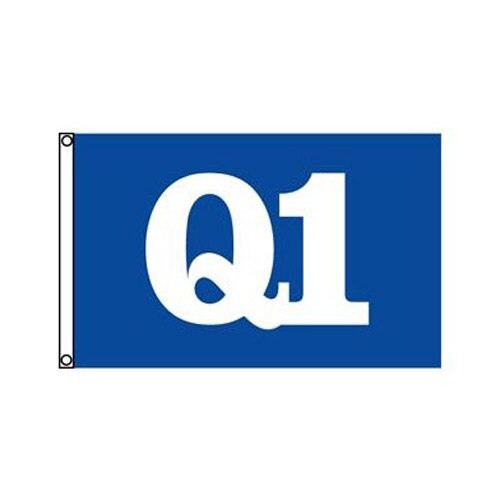 Details
The Q1 Corporate Ford Flag symbolizes all the hard work and determination each Ford supplier has shown in implementing the required criteria set forth by the International Organization of Standardization.
Should only be displayed by companies who have received the certification of "Q1" from Ford
Single-reverse construction allows for flying in the slightest of breezes
Constructed of lightweight yet durable 200 denier nylon
Canvas heading with solid brass grommets allows for a strong, long-lasting display
Q1 Corporate Ford Flags are given only by Ford to Ford suppliers who have met the rigid criteria to reach "Q1" certification. Q1 status indicates that there is a solid understanding that Quality is #1! To achieve Q1 certification, the supplier must demonstrate completion of: International Organization of Standardization (TS 16949 and ISO 14001) certification; proper implementation of quality operating and management systems, as well as environmental management systems and customer endorsements. Once all criteria has been met, this vibrant blue flag with a crisp, white "Q1" is then provided to the company for display as a symbol of dedication, hard work and understanding of what it takes to bring top of the line quality to the customers of Ford, both big and small.
In addition to the Q1 Corporate Flags, Carrot-Top Industries also supplies the ISO 9001:2008 Corporate Flags as well as ISO/TS 16949 flags (links to be added). Along with Corporate flags, Carrot-Top is proud to offer 100% American-made outdoor United States flags which pair exquisitely with your company's Q1 corporate flag. Our exclusive Beacon® Nylon and Patriarch® Polyester United States flags are our best all-around styles and will last for seasons to come. Advertising flags supplied by Carrot-Top Industries are also available in solid color, message and custom styles. For a complete and professional presentation, have a custom flag made with your company's logo and name! Certain to be one of a kind, a custom flag is sure to garner the attention to customers and business partners alike. For further details, please fill out our contact us form and one of our Customer Care Representatives will be in touch with you.