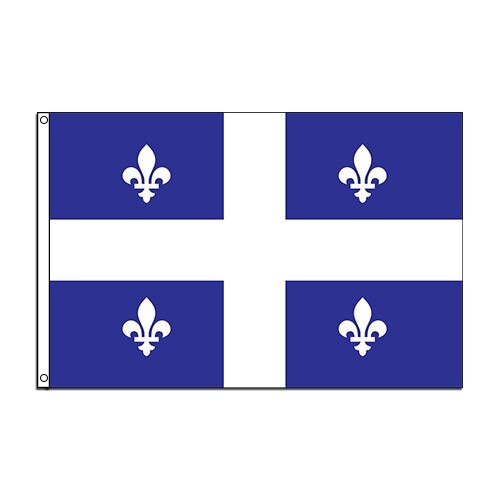 Details
Our Quebec flags show off your patriotism and pride for this Canadian province with the distinguished style and beauty of our premium quality, nylon flags.
Two sizes available including Official Canadian Standard and official standard ratios
Strong and durable 200 Solarguard® Nylon
Single Reverse Imaging with canvas heading and brass grommets
Lightweight and quick drying
Our Quebec flags create beautiful displays at your home, school, museum, church o government offices. The flag may be flown with at the official ratio of 2:3 (3'H x 5'W) when flown in absence of the national Canada Flag. They should be flown in a 1:2 standard ratio (3'H x 6'W) when flown with the flag of Canada. Carrot-Top offers both sizes of Quebec's Fluer-de-lis flag. Select the size or sizes that meet your display needs.
The elegant Quebec flag contains a blue field with a white cross at the center. A fleur de lis symbol is in each quadrant of the flag. Often called the Fluerdelise', the flag was adopted by the administration that served the province's 16th premier from 1936to 1939 and from 1944 to 1959. It was the first provincial flag officially adopted in Canada and was first displayed on January 21, 1948. The symbols, which include the fleur-de-lis representing purity and the blue field signifying heaven, pay tribute to a banner honoring the Virgin Mary which the French-Canadian militia carried at General Louis-Joseph de Montcalm's victory at Carillon. The flag is Azure.
Carrot-Top proudly supplies the national flag of Canada in several sizes as well as flags of all Canadian provinces and territories. (See our Canadian Province page for display instructions regarding the correct display of territory and province flags.) Be sure to shop our extensive collection of flags of nations from every corner of the globe. Carrot-Top offers flags of all types including sports flags of Canadian major league baseball teams like the Toronto Blue Jays, NCAA sports team flags of colleges and universities and Olympic flags. Carrot-Top's American flags include our exclusive Beacon® Nylon American flag and Patriarch® Polyester American flag. For further details, please fill out our contact us form and one of our Customer Care Representatives will be in touch with you.