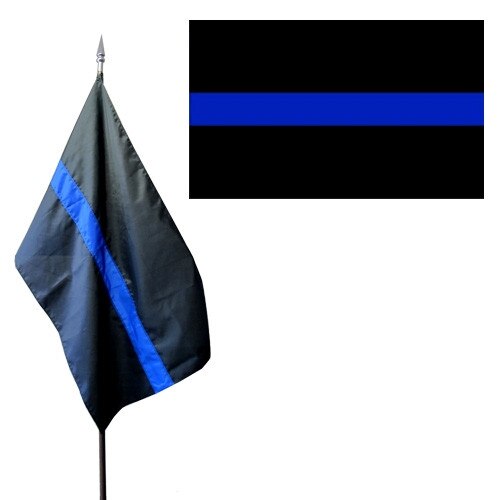 Thin Blue Line Flag - 3' X 5'
Details
Buy thin blue line flags to support the men and women in the law enforcement community. These 3' x 5' blue line flags features three individually sewn stripes. The two outer stripes are black and the middle stripe is blue.
The thin blue line flags are made of durable 200 denier nylon for long term use. See the description tab below for more information about our blue line flags.
The 3' x 5' thin blue line flags feature a black background with a blue line in the center. These flags represent Law enforcement agencies and fallen officers. Some believe that the thin blue line flag's black background is a solemn reminder of all the officers lost in the line of duty and the blue line represent law enforcement which is the barrier between civilized citizenship and social chaos. Others believe that the black background represents all citizens, the lower half is seen as the criminal segment and the upper black stripe signifies the common law abiding citizen. The blue stripe is said to represent law enforcement which acts as a barrier between the criminals and regular citizens, protecting the latter from coming into contact with the criminal portion.
Our thin blue line flags are made of durable 200 denier nylon and are perfect for both indoor and outdoor use. These flags are ideal for any location and setting and perfectly designed to be flown in areas with light to moderate wind speeds. The blue line flags are available in two varieties; one features a header and grommets and can be used with our flag hooks and outdoor flagpoles. We also carry a thin blue line flag with a simple pole hem and tabs. Both flags can be used in an indoor or outdoor setting and are made in USA.
Carrot-Top also offers a variety of other flags for all military branches, including POW MIA flags, KIA flags and Wounded Warrior flags. In addition we also have a wide variety of other civil service flags. Browse through our expansive product line and for more information please fill out our contact us form and one of our Customer Care Representatives will be happy to get in touch with you!