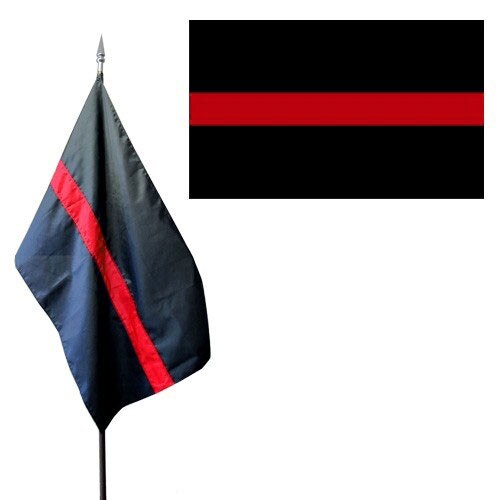 Details
Thin Red Line flags are ideal for businesses, residential homes or organizations who want to show their support for firefighters injured or killed in the line of duty.
Thin Red Line flags are an inexpensive way to honor men and women who serve our communities
These 3'x 5' nylon Firefighter flags are available in both indoor and outdoor varieties
Thin Red Line Flags should be displayed horizontally
Our flags are proudly made in the U.S.A.
Thin Red Line flags are flown to show honor and respect for sacrifices and firefighters injured or killed in the line of duty. Each red line flag features a black background with a red line in the center representing the courage firefighters find to put their lives second to protect the life and property of their community members.
Our Thin Red Line flags are all made in U.S.A to honor American heroes. The red line flags are available in two styles for indoor and outdoor displays. Outdoor flags are built with all-weather nylon, a strong header and grommets for easy attachment and removal. These flags may be used with our outdoor flagpoles . The indoor or parade style flag is crafted with superior, 200 denier nylon and is single reverse finished with an unlined pole sleeve. These flags pair perfectly with our indoor flagpoles.
See our full selection of civil service flags including fire department flags and fire fighter mourning flags. For a show of your national spirit browse through our American flags as well. Our flags are made with great attention to detail and the best raw materials. For further details, please fill out our contact us form and one of our Customer Care Representatives will be in touch with you.