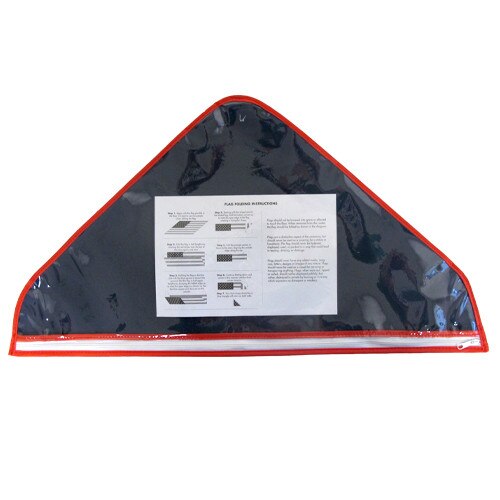 Details
The vinyl flag case is a great way to protect your interment flag or a 5'x9.5' cotton American flag from damage. This flag case is made of flexible vinyl material and features a clear front facing side to display your American flag.
The Vinyl flag case comes fitted with a zipper for easy access to the flag when needed. These cases are ideal for protecting cotton flags when being transported or stored. For more about the Vinyl flag case see the description tab below.
The vinyl flag case is made up of a clear plastic front and a blue vinyl cover behind the display panel. These flag cases, also known as the flag bag, is an inexpensive way to keep your invaluable American flags safe. The vinyl case is used with interment or burial flags given to service members of the U.S Military or Civil service departments. The vinyl flag case comes attached with a zipper that prevents the entry of dust and other particles that might cause your flag to discolor or be damaged.
See our full range of flag cases ideal for interment flags. Our Government specified American flags also house American flags of all sizes as designated by Government bodies. Browse through all our American flags to find one that fits your needs for a perfect patriotic flag display. See our military and memorial products including military flags, Veterans products, POW MIA flags, KIA flags and wounded warrior flags. You can also show your support with a Support our troops flag, offered only by Carrot-Top Industries.
*Flags sold separately.