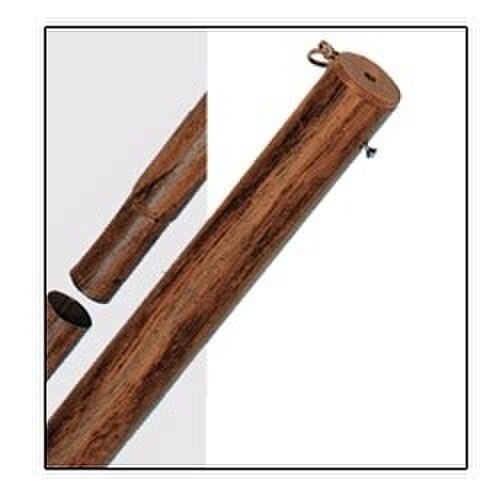 Wood-Grained Steel Flagpoles
Details
The wood-grained flagpoles offer the beauty of a wood finish without compromising on strength and durability. These flagpoles feature an 8' or 9' steel shaft with a vinyl polished-wood finish which closely resembles polished pecan wood.
The vinyl is permanently laminated to the steel to prevent it from peeling. The wood grained flagpoles also feature a slip-type joint for ease of handling and storage and accepts all flagpole ornaments. View and download assembly directions in the Instructions tab. For more information on this flagpole read the description tab below.
The wood grained Steel flagpoles are some of the most economical indoor flagpoles that we offer. The wood-grained vinyl is scruff resistant. However, because these poles are STEEL, they have a tendency to rust, unlike our Majestic™ poles. The flagpole also comes with a wood screw eye near the top of the flagpole for attaching a flag.
These poles are available as an 8' or 9' pole with a diameter of 1 ¼". 1¼" diameter poles are the standard poles featured in flagpole sets and fit all of our weighted flagpole bases. The flagpole also accepts all flagpole ornaments (adapter maybe required in some cases), pair the flagpole with a weighted base and a flagpole ornament to create your own custom flag display set!
*Flags, ornaments and bases are not included with the purchase of a flagpole*
*The wood grained steel flagpoles are intended for long term indoor use but can be used outdoor in dry conditions for short term displays. *