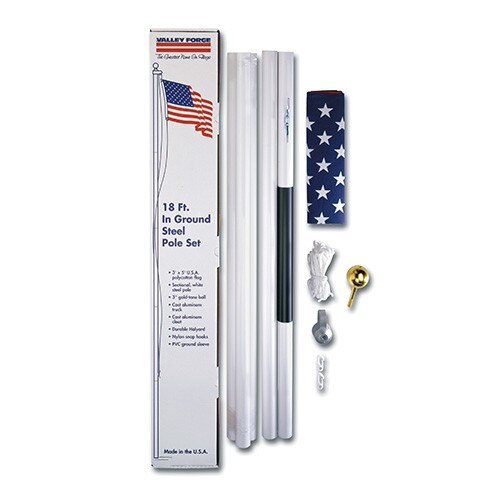 18' White Steel Sectional Flagpole
Details
Picture what an 18' White Steel Sectional Flagpole would look like in front of your home or business! These powder coated steel flagpoles are perfect as a residential flagpole or for one-story business settings.
Suitable for low-wind environments
Five-section flagpole is white powder coated steel
Wall thickness of .046"
Comes complete with 3' x 5' poly/cotton flag
All sections are swedged to fit with each other snugly but easily
Why Buy a White Steel Sectional Flagpole?
Looking for an affordable steel flagpole for a one-story building? Carrot-Top's White Steel Sectional Flagpole is an excellent choice.
This five-section flagpole has a 51.5" bottom section with an 18" ground sleeve attached; the next sections are 45" long, with the top section measuring 51.5" long. All sections except the bottom are swedged to easily fit over each other, with one section pre-drilled for easy installation of the cleat.
This residential flagpole comes complete with a 2" stationary aluminum truck, 3" aluminum ball, two nylon snaphooks, 6" aluminum cleat, , halyard, ground sleeve and a 3' x 5' poly/cotton U.S. flag.
Please note: The flag should be lowered from this residential flagpole when winds reach 25 mph, and the pole should be removed from the ground sleeve if winds reach 35 mph. This steel flagpole is not advisable for coastal areas or mountains with high prevailing wind speeds.
Questions? Please fill out our contact us form and one of our customer care representatives will reach out to you!