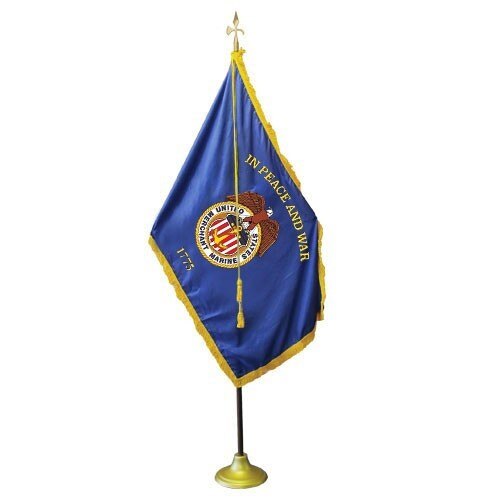 Brigadier™ Merchant Marine Indoor Flag Set
Details
Our Brigadier™ Merchant Marine Indoor Flag Set is ideal for display in government and veteran's offices, at graduations for military academies and other official ceremonies. This complete set includes everything needed for a stunning indoor Merchant Marine flag display.
Indoor use, temporary outdoor use
Includes one 8' jointed-oak pole
Includes one 8" round brass spear or 9" Brass Battalion Lance
Includes 3' x 5' Nylon Merchant Marine Indoor Flag
Includes 9' cord x 5" tassel set
Includes 12" gold indoor floor stand (14 lbs.)

Assembled in the U.S.A.
Why Buy the Brigadier™ Merchant Marine Indoor Flag Set from Carrot-Top Industries?
The Brigadier™ Merchant Marine Indoor Flag Set includes everything needed for a complete indoor military flag display that can also be used outside during ceremonies and special events. Included in this set is a 3' x 5' gold-fringed indoor Merchant Marine flag, an 8' brass jointed, solid oak flagpole, a 14 lb. gold-finished indoor flag stand, a topper of your choice, and a 9' cord by 5" tassel set to complete your official Merchant Marine display.
The Brigadier™ Merchant Marine Indoor Flag Set is commonly used in military offices, government buildings and other military settings where it would be appropriate to pay honor to the Merchant Marines. This set is also perfect for parades and honor guards and can be combined with any of our indoor flag or parade accessories—such as a flag spreader or carrying belt— for an impressive presentation.
Questions? Let Us Help!
At Carrot-Top, we offer a great selection of indoor and outdoor military flags as well as the best quality and selection of U.S. flags on the market. In addition to our military branch flags, we also offer veterans' flags and military grave markers to honor those killed in the line of duty. For more information about any of our products, or to place your order, please fill out our contact us form and one of our Customer Care Representatives will be happy to get in touch with you!