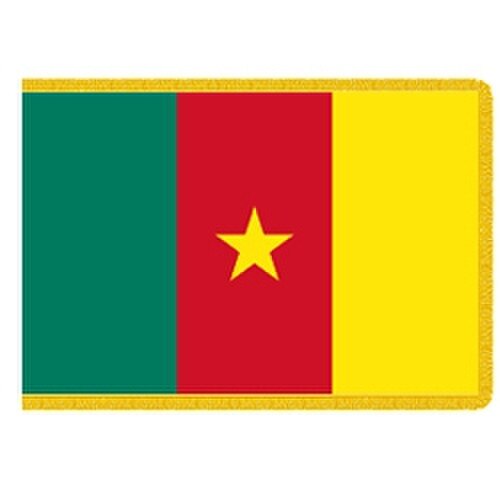 Details
Indoor Cameroon flag is made of nylon, ideal for long term use.
Flags can fit most indoor flag poles with ease
Feature a gold fringe
Flags measure 3'x5'
Indoor Cameroon flags feature the official Cameroon flag design with all the proper colors
Our Indoor Cameroon flags are ideal for any official and professional flag display. These flags are ideal for use in an official building or buildings like embassies. The flags feature a proud gold fringe that runs around the three outer sides of the flag. The hoist end is fitted with a lined pole sleeve capable of accommodating our indoor flag poles and the majority or our parade poles. The gold fringe is made of rayon and adds a contrasting effect that attracts more attention. The flags are made of durable nylon and are designed to last many months in constant displays.
These Indoor Cameroon flags feature the official design of the national flag of Cameroon. The flag is divided in to three vertical stripes arranged side by side. The stripe on the left is green and represents Cameroon's lush, green vegetation. The center stripe is red and stands for peace and unity. The third stripe is colored yellow and acts as a symbol for the sun. The flag is finished with a yellow star placed in the center of the flag which symbolizes unity.
See our outdoor Cameroon flags and our mini Cameroon flags for more Cameroon flag display options. We supply a large range of World flags from all over the globe. Our indoor flags can be paired with most of our indoor and parade flag poles. We supply outdoor commercial flag poles and outdoor residential flag poles for all-weather displays. See our collection of American flags, Custom items and property management solutions to find items to address your needs. For further information about our products please fill out our contact us form today.