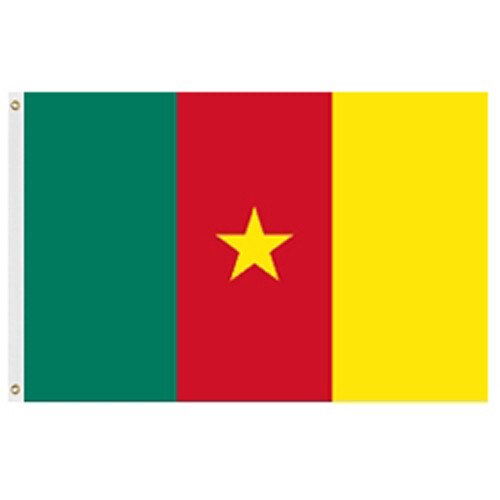 Details
Outdoor Cameroon Flags are ideal for all-weather displays in any location.
Flags are made of water resistant nylon
Flag sizes available: 2'x3', 3'x5', 4'x6', 5'x8'
Outdoor Cameroon flags come with a strong header and brass grommets for attachment
Flags can be attached to any outdoor flagpole
Display our Outdoor Cameroon flags in any setting and any location. These all-weather nylon flags are built to withstand wet and dry weather with ease. The nylon fabric is water resistant and light-weight allowing the flag to wave proudly even when wet. The flags come with a canvas header and brass grommets to be used with a snap hook and flag pole rope. The header and grommets allows for the flag to be attached to any outdoor flag pole with ease.
Our outdoor Cameroon flags are designed with the official tri bar design. Cameroon flags feature three equally sized vertical stripes. The left stripe is colored green, the center stripe is red and the stripe on the right is colored yellow. In the center of the flag is a five-pointed yellow star which signifies the unity of the people of Cameroon. The green stripe stands as a symbol for Cameroon's dense vegetation, the red stand for independence and unity. The yellow is a symbol for the sun.
See our indoor Cameroon flags and our Mini Cameroon flags. Carrot-Top Industries houses World flags from a variety of different countries. Pair a flag with one of our flag poles available for both indoor and outdoor use. Our indoor and parade poles are available in several finishes and styles. We offer both residential outdoor flag poles and commercial outdoor flag poles. See our impressive collection of American flags, custom products and more. For further details, please fill out our contact us form and one of our Customer Care Representatives will be in touch with you.