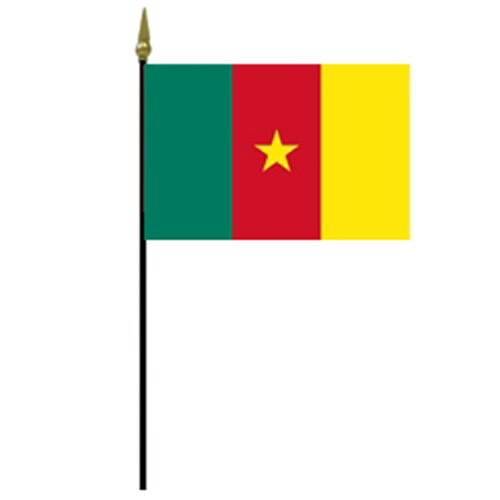 Details
HOW TO ORDER CORRECT QUANTITY: QTY 1 = 12 FLAGS
Our Mini Cameroon flags are perfect for use as giveaways and for use in large scale events like rallies or celebrations.
Flags are made of 70 denier nylon material
Come with attached flag staff for easy handling
Flags measure 4" x 6"
Flags are an exact miniature version of the official Cameroon flag
Mini Cameroon flags are ideal for use as gifts and giveaways at an event celebrating Cameroon. These flags measure 4"x6" and are extremely inexpensive. The flags are a 70 denier nylon material and are fastened securely to a black plastic staff which makes for great, upright displays. The flag staff is finished with a gold plastic spear head on top for added effect. The Mini Cameroon flag staff measures 10" in length and 3/16" in diameter.
Our Mini Cameroon flags are accurate copies of the national flag of Cameroon. The flags feature a triband design with three vertical stripes arranged side by side. The stripe on the left is colored green and is a reminder of Cameroon's rich natural beauty and vegetation. The center stripe is red symbolizing independence and unity. The right stripe is yellow and represents the sun and fertile soil. The flag also has a yellow star in the center of the flag to represent unity between the North and South.
See our indoor Cameroon flag and our outdoor Cameroon flags available in several sizes. Pair a mini Cameroon flag with one of our mini flag accessories to create a unique flag display in any location. See our collection of world flags, American flags and custom products. Pair a flag with one of our indoor and parade flag poles or with a flag pole for all-weather display. For more about our products please fill out our contact us form today.