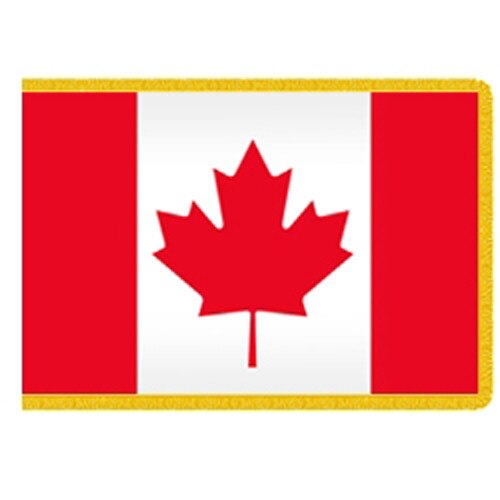 Details
Indoor Canada flags are fashioned in strong, beautifully woven nylon. These flags have a lined pole sleeve and plush, traditional gold fringe around the remaining sides. Our Indoor Canada flags are made with vibrant colors and nylon that dries quickly and flies effortlessly in the slightest breeze. For more information about our Indoor Canada flags see the description tab below.
Our Indoor Canada flags are the perfect flags for indoor displays and parades. These flags are great for home, office, school, church or any location. These flags are finished with a lined pole sleeve along the left side and plush traditional gold fringe around the three remaining sides which creates a classic and distinguished look. Indoor Canada flags measure 3'x 5'.
Carrot Top takes great pride in fashioning patriotic, custom and flag products for onetime events, ongoing presentations and permanent installments. Our American flags are some of the finest flags available and include the Beacon® Nylon American flag and the Patriarch® Polyester American flag. Carrot Top's graphic designers are skilled artisans who will replicate your logos and images onto street banners, decals, and tents. For more information about Indoor Canada flags or any Carrot Top item simply fill out our contact us form today!