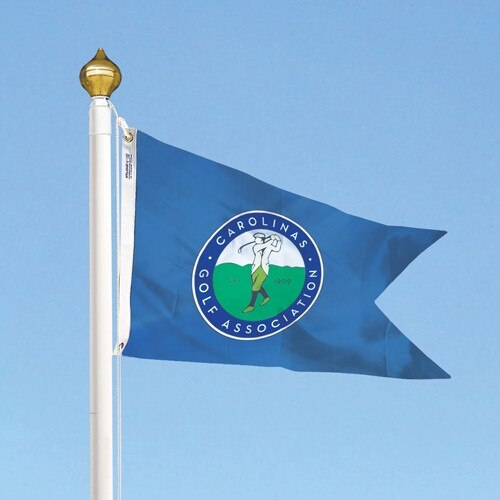 Details
Burgee Flags are a nautical tradition, with the familiar tapered triangular shape of a pennant and a V-shaped "swallowtail" cutout at the fly end. Custom Nylon Burgees from Carrot-Top can be printed with your design for a personalized touch!
Ideal as yacht club flags
200 denier nylon
Single-reverse digital printing will display correctly on one side, reversed on the other
Unusual shape tends to attract more attention
Proof provided before production
Made in U.S.A.
See below for more information
Why Buy a Custom Nylon Burgee?
Sometimes referred to as "yacht flags", Custom Nylon Burgees make a distinct statement for your team, yacht club, company or other organization. Carrot-Top can print them with your choice of graphics, and their lightweight-but-sturdy nylon construction means they can easily fly and flutter in a light breeze. According to their size, Custom Nylon Burgees can be used with Indoor/Parade Flagpoles, Guidon Staffs,Outriggers, Super Poles or Residential Flagpoles.
Choose from 2' x 3', 3' x 5', 4' x 6' and 5' x 8' sizes. Custom sizes are available upon request. For more information, please fill out our contact us form and one of our Customer Care Representatives will be in touch with you!
Single-reverse printing means that your design will display properly on one side and reversed on the other. With sturdy double rows of stitching on all sides, the Custom Nylon Burgee is rated for light to moderate winds.
PLEASE ALLOW 2-3 WEEKS, AFTER FINAL DESIGN APPROVAL, FOR PRODUCTION AND DELIVERY OF THIS CUSTOM PRODUCT.