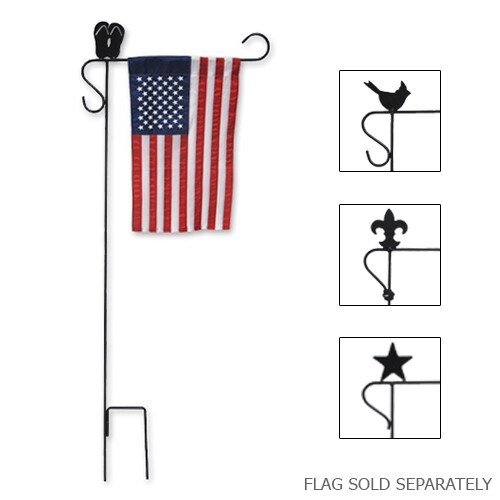 Decorative Garden Flagpoles
Details
Decorative garden flagpoles are a great, whimsical addition when looking to make your home or garden your own. Made of durable wrought iron, these flagpoles will withstand most weather environments while allowing your chosen garden flag to display beautifully. These poles are recommended for use with 12" x 18" garden flags.
To order a decorative garden flagpole, select your desired style and quantity from the options below and click "Add To Cart." For more information, see the details. Please note that our garden flags are sold separately. Imported.
LIMITED QUANTITY AVAILABLE
Our decorative garden flagpoles are available with many different ornament options which compliment garden flags nicely. Available ornament options include: Cat, Hummingbird, Butterfly, Lighthouse, Songbird, Fleur D'Lis, Star, Flip Flop, Pirate and Heart. The ornamental styles measure 16" in width x 42" in height. We also offer the Curl style which measures 16" in width by 44" in height and features a more simple yet classic design that allows your garden flag to stand out. Imported.
Along with the decorative garden flagpoles, corresponding garden flags are also available through Carrot-Top Industries. Styles ranging from present-day patriotic to the Betsy Ross flag, Military Branches to honoring and supporting those who have served and those who are classified as POW/MIA to our Firefighters, are available for use with your chosen garden pole. For those who may be looking to decorate the grave site of a fallen soldier or veteran, our Patriotic Garden Flag and Flower Set is a cost-effective yet handsome display to honor those fought for our continued freedom.
Another great way to show your patriotism is with our outdoor United States flags. Our Beacon® Nylon and Patriarch® Polyester styles are American-made and are ideal for in-ground flagpoles. For a less-permanent display, our Deluxe Beacon® Flag Set is a great alternative option. For further details, please fill out our contact us form and one of our Customer Care Representatives will be in touch with you.