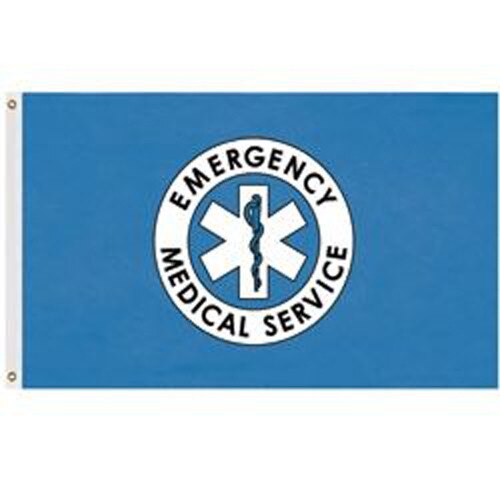 Details
Buy EMS flags or Emergency Medical Services flags which measure 3'x5' and are built for outdoor use. They feature a star of life in the center and a light blue background.
These flags are proudly made in U.S.A. to represent all the brave and selfless men and women who serve in the EMS. Fly an EMS flag to show your gratitude and honor everyday heroes in your community. For more information about our EMS flags see the description tab below.
The EMS flag is designed for long term outdoor use in areas with average wind speeds and can also withstand wet weather. These flags are built using 200 denier nylon, a light weight and versatile flag fabric that is water resistant and has proven itself in permanent outdoor flag displays. Our EMS flag is complete with a canvas header and brass grommets in order for the flag to be attached to an outdoor flagpole and flagpole rope. The flags feature a single reverse finish, the flag reads correctly on one side and the reverse on the other.
The EMS flag comprises of a star of life in the center of a blue background with the words Emergency Medical Services encircling the star. The star of life consists of six bars that converge to make a 6 pointed star. The bars represent detection, reporting, response, on scene care, care in transit and transfer to definitive care. In the center of the star is a staff with a serpent coiled around it with its head towards the top of the staff. The staff is a symbol taken from Greek mythology and is said to be the staff of Asclepius the Greek god of Medicine.
See our Red Cross flag, and the star of life flag as well. Our civil service flags are a great way to honor your local civil servants, browse through our collection to find a product to fit your needs. We also offer many different military and memorial products to honor military men and women. Pair a military or civil service flag with an American flag for a great display. For more about our EMS flag or any other products please fill out our contact us form and one of our Customer Care Representatives will reach out to you promptly.