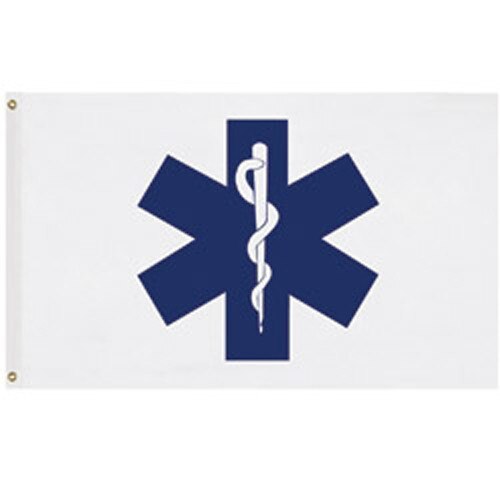 Details
The star of life flag is a globally recognized symbol that represents the presence of an emergency medical crew or unit. The flag is also used to identify areas or locations in which emergency medical aid is available.
Our star of life flags are made up of a white background with the star of life image placed in the center of it. The flags measure 3'x5' and are built for use in extended outdoor displays. All of these flags are made in USA. For more about our star of life flags see the description tab below.
The star of life flag offered by Carrot-Top industries is made using 200 denier nylon. These flags are finished with a strong canvas header and brass grommets. The flags are designed to be used with any kind of outdoor flagpole and flagpole rope. The flags also feature a single reverse finish, the flags read correctly on one side and show the reverse on the other side.
The star of life flag features the star of life centered on a white background. The star of life was first introduced in 1972. The symbol is now seen as a symbol of EMS units, the star of life was first associated with EMS in 197. The star is made of six bars coming together in the center to form a sixe sided star. In the center vertical bars a medical staff is placed vertically. The medical staff is designed after the staff said to be carried by the Greek God of Medicine Asclepius. The staff is characterized by a coiled snake around it.
See our EMS flag, Red Cross flag and the full complement of civil service flags to honor day to day heroes in your community. Browse through our vast collection of military and memorial products to pay homage to military men and women. Carrot-Top also offers high quality American flags, ideal for patriotic holidays and to showcase your national spirit. For a complete flag display pick out a flagpole and flagpole accessories. For more about our products, please fill out our contact us form and one of our Customer Care Representatives will be in touch with you!