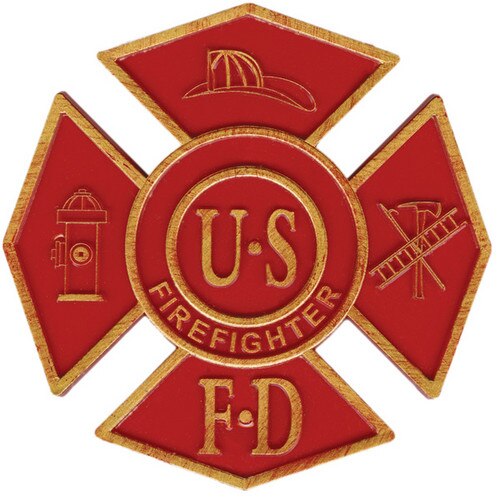 Plastic Fire Fighter Grave Markers
Details
Our plastic Fire Fighter grave markers feature a similar design to our Aluminum and bronze fire fighter grave markers. These inexpensive markers are made of extra strength thermoplastics for use in outdoor displays.
The plastic Fire Fighter grave markers are a great way to honor the heroes of the Fire Department, willing to risk their lives for the good of their community. For more information about these grave markers see the description below.
To order your Fire Fighter grave marker simply enter your quantity below and select Add to Cart!
Our plastic fire fighter grave markers come with an "antiqued bronze" finish on a red background. They also have a layer of plastic coating to persevere against the elements. These grave markers measure about 6" in diameter and come with an aluminum rod with a diameter of 3/8" and a length of 18". The rod makes it possible for the grave markers to be displayed upright with the rod placed in-ground next to a head stone or grave.
See our full range of grave markers including our bronze grave markers with come with a life time guarantee. Our other civil service flags include fire fighter mourning flags, fire fighter cemetery flags and fire department flags for indoor and outdoor use. Couple a fire department flag with one of our premium American flags for a colorful and patriotic display to support your local fire fighters. Browse through our full line up of custom products if you cannot find a stock product to fill your needs.