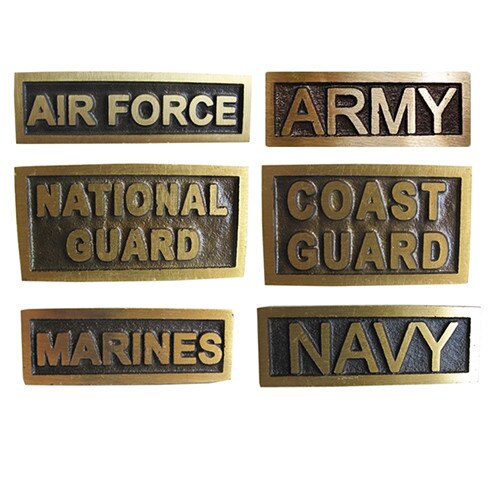 Bronze Military Insignias
Details
Our bronze military insignias are a durable and long-lasting way to recognize our fallen members of the United States Military. Made of strong and sturdy solid bronze, our insignias are an honorable addition our bronze grave markers. Easy to install, economically priced and superb quality make this accompanying purchase much more than simply decorative. These insignias are proudly made in America. For more information on our bronze military insignias, please see our description tab below.
Our bronze military insignias are a subtle yet modern way to add additional recognition to the grave marker of your fallen soldier. Cast from solid bronze, you can rest assured knowing that the quality and finish will last for years to come. Envisioned for use with our bronze grave markers, these insignias are simple to install with the provided set screw. A 1/8" Allen wrench will be needed for the securing of the insignia and is not included. Options for World War I, World War II and Purple Heart are also available.
Carrot-Top Industries also offers a wide range of military products from flags to lapel pins, grave markers to table statues. For further details, please fill out our contact us form and one of our Customer Care Representatives will be in touch with you.