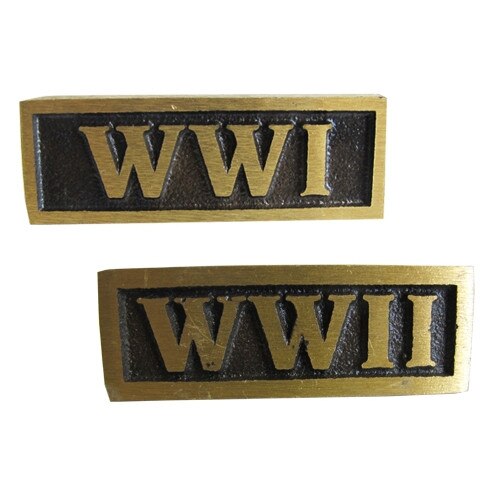 Bronze World War I & World War Ii Insignias
Details
Bronze World War Insignias are an ideal way to honor your loved one who served in our First or Second World Wars. Casting from our tough, durable bronze will allow for increased legibility as well as a rust-proof finish that will last for years to come. Easily attached to our bronze grave markers, our World War I and World War II insignias are great for recognizing our United States Military veterans who fought for our freedom. For more information on our World War I and World War II bronze insignias, please see our description tab below. Made in America.
Bronze Insignias for our First and Second World Wars are a modern idea that can be added to our bronze grave markers with a vastly traditional and stately appearance. Designed for use with our bronze grave markers, installation is a breeze. Simply slide your new insignia onto the rod of the grave marker and secure the provided set screw with a 1/8" Allen wrench (not included). Honoring our United States veterans is something we at Carrot-Top take very seriously. Known as the largest military conflicts in human history, World War I and World War II both involved military alliances between different groups of countries.
In addition to the bronze insignias and grave markers, also available are our Aluminum and Plastic Grave Markers. While being more cost-effective, the plastic grave markers offer peace of mind when they are placed in honor of your loved ones. Carrot-Top Industries also offers outdoor United States Flags in our Beacon® Nylon, Patriarch® Polyester and cotton. Government-specified sizes are also available in nylon or cotton, depending on the size. For more about our products or for questions or concerns, please fill out our contact us form and one of our Customer Care Representatives will be in touch with you!