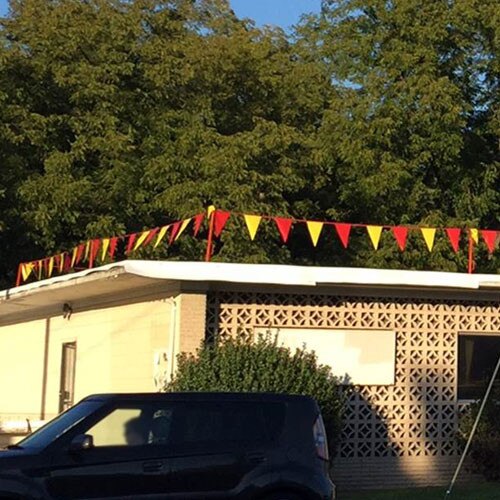 Osha Approved Red And Yellow Pennant String
Details
Our OSHA Approved Red and Yellow Pennant Strings are super durable red and yellow triangle banner flags on strong poly-twine that has 500 lbs. of tensile strength. These Pennant Strings are great for use in construction areas, roof jobs or blocking off hazardous areas.
Perfect for safely blocking areas and parameter marking around active construction sites
4 Mil polyethylene red and yellow (alternating) plastic pennants
Pennants measure 12"W x 18"L (48 pennants per string)
Double- sewn pennants on 500 lbs. of high strength rope
Pennant Strings measure 105' Sag-resistant
Designed for Indoor/Outdoor use
100% Made in the U.S.A.
Why Buy 105' OSHA Approved Red, Yellow, Red String?
Our Red Yellow Pennant String are colorful string flags that grab everyone's attention and while they also decorate your locations. These Red Yellow String Pennant flags will catch the sunlight during the day and reflect artificial light in the evening. Use for grand openings, promotional events more. Each 105' Pennants String has 48 Pennants alternating in red and yellow triangle flags. Triangle banner flags measure 12"W x 18"L. The heavy duty, reinforced cord exceedes OSHA's 500 lb. tensile strenght requirement for use in above ground construction areas, flat roof jobs and upper level construction. Strings may be used indoors or outdoors as they are designed to withstand the harshest weather conditions. Carrot-Top offers a wide variety of Pennant String ranging from 100' Multicolored Gator Hyde Pennant String or our other Multicolored Pennant String. Our Wiggler Pole and Pennant Sets are also available in multiple colors. If you don't see the color combination that suits your particular needs please fill out our contact us form and one of our Customer Care Representatives will reach out to you!