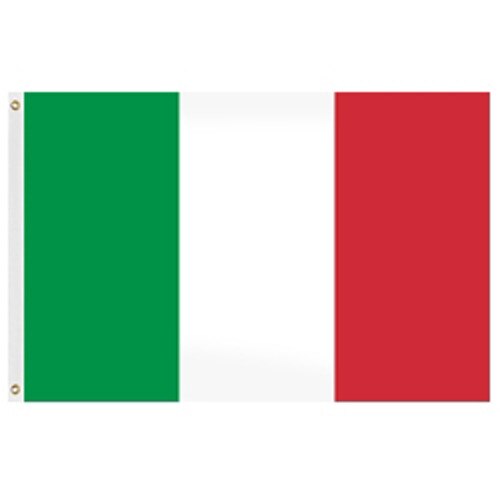 Details
Outdoor Italy flags are crafted in strong, durable nylon and are available in several sizes. Carrot Top's outdoor flags showcase excellent craftsmanship and are built to last. These flags feature rich, bold red, white and green colors and exquisite, reinforced lock stitching that prevents fraying. For more information about our Outdoor Italy flags see the description tab below.
Outdoor Italy flags are tailored with extra tough, woven nylon and may be purchased in a number of sizes. Select a flag that best matches your flagpole's height and suits your display needs. These strong Outdoor Italy flags are durable yet lightweight and fly beautifully in the slightest breeze. Sizes available include 12" x18", 2'x3', 3'x5', 4'x6' and 5'x8'. Outdoor flags are fashioned with a canvas header along the left side and two brass grommets for easy attachment to your pole.
Carrot Top is committed to providing the highest quality products as well as superior customer service. Our American flags are some of the finest flags available and include our exclusive fabrics the Patriarch® Polyester American flag and the Beacon® Nylon American flag. Consider matching your Outdoor Italy flag with a Mini Italy flag and an Italy flag patch and Italy flag lapel pin. For further details, please fill out our contact us form and one of our Customer Care Representatives will be in touch with you.