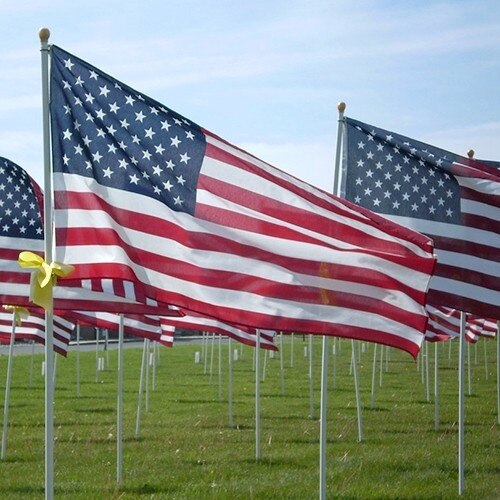 Sun-Glo® American Nylon Flags
Details
Our Sun-Glo® nylon American flags are made of 100% Solarmax™ nylon. These nylon U.S flags are the perfectly suited in long-term outdoor displays and to handle rough weather conditions. Our flags are proudly made in the U.S.A.
The Sun-Glo® Nylon U.S flags feature printed stars and stripes; printed nylon flags appear more vibrant in sunlight than other traditional American flags. The SolarMax™ nylon is tailor made to resist UV damage from sunlight so the flags retain color longer. See the description tab below for more information.
Our Sun-Glo® Nylon American flags are made of 100% SolarMax™ nylon. This revolutionary fabric is tailor made using 200-denier (industrial strength) nylon so you can be sure that these flags will endure quite a bit of abuse! SolarMax™ is also named for its ability to resist UV damage and retain color. Sun-Glo™ Nylon American flags are also excellent for outdoor displays in wet areas, the light weight SolarMax nylon repels water and dries much faster than traditional flags.
The flag is finished with fray-resistant lock-stitched hems, durable reinforced double brass grommets and a heavy duck heading for fastening. The flag also features dyed in stars and stripes, the printed features reflect sunlight more efficiently than traditional flags and appear vibrant. These nylon American flags weigh less than 0.5lbs and fly proud and strong in the lightest of breezes.
Also see our Beacon® nylon American flag and Patriarch® polyester American flag.These flags are Carrot-Top exclusive products and come backed by our experience spanning more than 3 decades in the the flag industry. Also see our residential flag poles and commercial flag poles for outdoor flags. We also have a variety of flag pole brackets and American flag sets, including our Beacon® American flag set which are perfect for home flag displays. In addition to American flags Carrot-Top proudly offers State flags, City flags and a host of Advertising flags for your business. We also have many custom products and special event products. For more about our products or for questions or concerns, please fill out our contact us form and one of our Customer Care Representatives will be in touch with you!