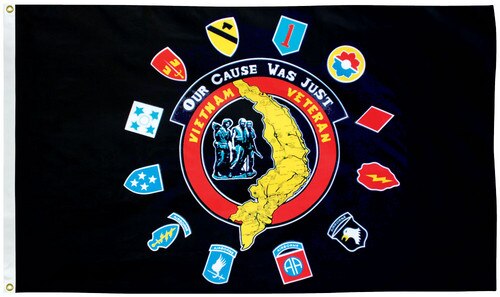 Vietnam Insignia Flag - 3X5' Endura
Details
Our Vietnam Insignia Flag is ideal when looking to honor and remember the divisions and their members who proudly served during the Vietnam War. Featuring a bold black background, our Vietnam Insignia flag highlights the 12 divisions of the United States Army with their identifying insignias. Complete with a canvas heading and brass grommets, our Vietnam Insignia flag will arrive ready to be placed on your outdoor flagpole. This flag is imported. To order this flag, please enter your desired quantity and click "ADD TO CART". For more information on our 3x5' Vietnam Insignia Flag, please see our description tab below.
Our Vietnam Insignia Flag is made of strong, Endura-Poly Polyester which will provide a long-lasting display for your home or business. This flag features the 12 divisions of the United States Army who fought in the Vietnam War (in clockwise order of appearance on flag): 1st Infantry Division, 9th Infantry Division, 5th Infantry Division, 25th Infantry Division, 101st Airborne Division, 82nd Airborne Division, 173rd Airborne Brigade, Special Forces Group Airborne, 23rd Infantry Division, 4th Infantry Division, U.S. Military Assistance Command and 1st Cavalry Division.
In addition to our Vietnam Insignia flag, Carrot-Top Industries offers many items for Veterans of each Military branch. Along with Veteran and Support our Troops items, Carrot-Top also offers American-made United States flags which are available in both our Beacon® Nylon and Patriarch® Polyester for outdoors. Our cotton United States flags are also beautiful when displayed, however we recommend that they are only used indoors or temporarily outdoors as the cotton may bleed if it gets wet. Our Government Specified United States flags, are also offered in both cotton and nylon, which are available in the more particular sizes for specific occasions or events. For more information on our Vietnam Insignia flag or any additional flags mentioned here, please fill out our contact us form and one of our Customer Care Representatives will be in touch with you!