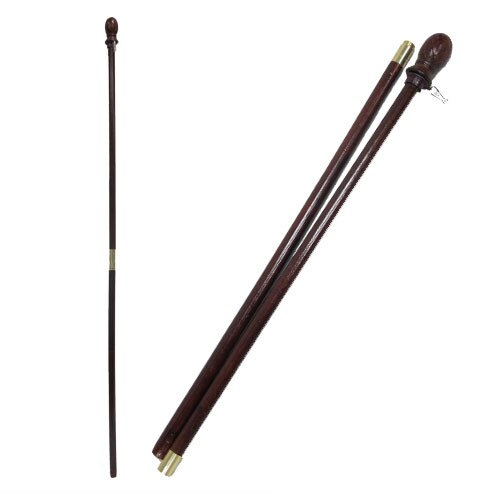 Wooden Flagpole - 5' Mahogany-Stained
Details
This Mahogany-Stained Wooden Flagpole provides a rich, stylish way to display your flag and is sure to garner many compliments.
Made of sturdy, solid wood with a mahogany stain finish & comes in two (2) pieces
Pineapple ornament top provides a modern, finished look
Measures 5'x1" when fully assembled at the gold joint
Intended for use with a flag no larger than 2x3'
Our Mahogany-Stained Wooden Flagpole measures 5'x1", when assembled, and will pair nicely with our adjustable brackets which are available in white and silver. Carrot-Top Industries also offers a fixed, 45° angle multi-purpose bracket, our "DD" style bracket as well as a stainless steel bracket which includes a Lifetime Guarantee. Ideal for use with a flag size no larger than a 2x3', this wood flagpole will accommodate flags featuring a pole sleeve using the included Anti-Wrap Ring and clip. For flags with grommets, two (2) flag collars will be required (sold separately) or you have the option of using cable ties (sold separately).
In addition to the Mahogany-Stained Flagpole, Carrot-Top Industries also affords the option of Outrigger Flagpoles which featuring a spinning style to allow your flag to remain untangled. These flagpoles are available in a white or silver finish and can be acquired with their matching bracket by purchasing one of our Outrigger Flagpole Sets. Also available in a double-lacquer coated hardwood, the traditional wooden pole set option is a great option as well and features the "DD" bracket. A great finishing piece to your outdoor residential flagpole display is a vibrant, American-made United States flag. For an appropriately-sized American flag with grommets, browse our Outdoor Beacon® Nylon American Flags available in smaller sizes for your home display. The smaller sizes will still feature the same top of the line, high-quality construction and vibrant, eye-catching colors without the risk of breaking your pole. For more information, please fill out our contact us form and one of our Customer Care Representatives will be in touch with you!