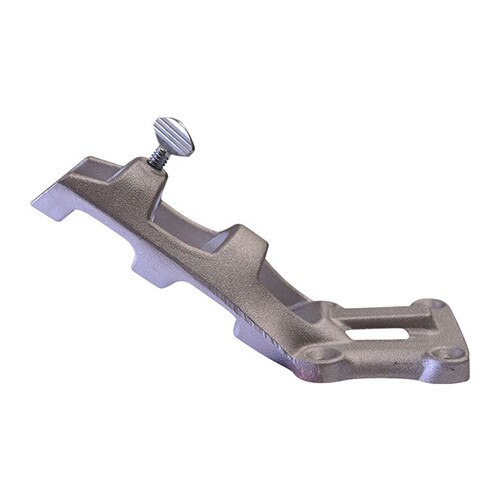 Multipurpose Flag Pole Bracket
Details
Full Product Details of our Flagpole Mounting Bracket:
Sometimes known as an electric way bracket, the multipurpose flag pole bracket is an offset flagpole mount on a utility or street light pole.
Designed for 1" diameter outrigger flagpole

Mount flagpole holder with screws or stainless-steel bands (not included)

Offset flagpole mount will display the flag at 35-degree angle

6 ½" x 2 7/8" at base

Flagpole holder has thumbscrew for securing flagpole

Product is imported
Why Buy a Multipurpose Flagpole Bracket?
Perfect for municipal flag displays, the Flagpole Mounting Bracket is a simple flagpole holder designed for use either with stainless steel mounting bands or screws (not included). Displays flag at a fixed 35-degree angle.
What Flagpole Height and Flag Size Suitable for our Flag Pole Bracket?
Our flagpole mounting bracket is perfect for a 6 ft flagpole. Our 3x5 ft nylon American flag or 3x5 ft polyester American flag works well with the 6 ft flagpole and the bracket. Browse the complete list of our Patriarch® polyester American flags and Beacon® Nylon American flags.
Order Your Flagpoles Accessories Today!
Carrot-Top Industries have been helping organizations and businesses for over 40 years. Our expert staff has the knowledge and experience to answer any questions or provide you with suggestions based on your needs. Send us a message using our contact us form.