5 Reasons To Buy A Flag From Carrot-Top Industries
Published on
May 4, 2020 at 11:15:00 PM PDT May 4, 2020 at 11:15:00 PM PDTth, May 4, 2020 at 11:15:00 PM PDT
As July 4th approaches, you may realize you need to replace your worn and weathered flags and flagpoles. Everyone wants to make a great impression with their patriotic display for Independence Day. For many, it is important to buy their American flags, flagpoles and patriotic decorations from a company that is knowledgeable about the flag industry and provides unsurpassed quality products. Here are 5 reasons Carrot-Top Industries is the expert flag company for you:
1. 40 Years of Flag Industry Experience

In 1980, Dwight Morris launched Carrot-Top Industries from his home as a small mail-order flag business. In 2019, the company transitioned to the next generation when Dwight's daughter, Liz Morris, became President and CEO with Dwight continuing on at Carrot-Top as Advisor to the CEO. Carrot-Top has grown to become one of the top online flag retailers in the industry, providing American-made U.S. flags and patriotic, special event and custom-made products to military institutions, service member families, government agencies, schools, businesses, and individuals across the United States. We have four decades of experience assisting and guiding customers who wish to create the finest displays of American and other flags while offering advice on the best flagpole and lighting options for your location, environment and budget. Whether you are a first-time flag/flagpole buyer or have purchased several, our buying tips can help you select the perfect flagpole display that will look great and last longer than those sold by other companies.
2. Selling American-Made Flags Is Our Priority

Look no further than Carrot-Top Industries for the best quality and selection of Made in America U.S. flags for sale. Our exclusive line of U.S. flags – the Beacon® Nylon and Patriarch® Polyester brands – features an Industry's Best 6-Month Flag Guarantee against defects, fading or tearing. All of our U.S. flags have the FMAA (Flag Manufacturers Association of America) "Certified Made in the U.S.A." certification seal. This seal assures consumers that their flag was made in the U.S.A. with domestic resources and labor and that the manufacturing process is continually monitored by a professional association and its domestic members. As a FMAA Certified Retailer, we can guarantee the U.S. flags you buy from Carrot-Top are really Made in America.
3. Industry's Best 6-Month Flag Guarantee

Nobody knows more about flags than Carrot-Top Industries. During our 40 years in the flag industry, we have learned what makes a top-quality flag. Our knowledge allows us to provide you with an Industry's Best 6-Month Guarantee on our exclusive Beacon® and Patriarch® family flags, including: Nylon U.S. Flags, Polyester U.S. Flags, State Flags, POW-MIA Flags, Custom Flags and Solid Flags. We know we can confidently provide this guarantee on our flags since they are made with fray-resistant stitching, embroidered and appliquéd stars, brass grommets and roped heading. Details such as interlocking stitches, back-stitch reinforcements, and quality materials like canvas, brass and galvanized metal make for a durable flag. From the date of purchase, our 6-Month Guarantee will cover defects, fading and tearing. Unsurpassed quality guaranteed.
4. Providing Bonus Flag & Flagpole Services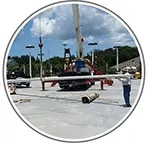 Carrot-Top Industries isn't just interested in providing top-quality flags. We want to help you display your flags in the best way possible. Unlike other flag companies, we have knowledgeable staff who can help you determine what display options are best for your flag. Our Flag Folding Service for U.S. Flag Cases ensures your purchased American flag will be folded correctly and fit in a case properly. We guarantee your flag will be folded to meet presentation protocols per military standards. We can also provide you with Flagpole Buying Tips and a Display Planning Guide and Flagpole Lighting Information. We even offer Flagpole Delivery, Installation and Maintenance tips. Carrot-Top is here to support you from choosing the right flags for your needs through to the final presentation of your flags in a case or flying from a flagpole. We even provide a lifetime warranty on our Commercial Flagpoles. This warranty guarantees that the shafts of our flagpoles will be protected against defects in materials or workmanship for a lifetime, and to be free of corrosion except that which occurs naturally while in use.
5. Flag Etiquette Education Is Our Mission
Here at Carrot-Top Industries, we feel it is important to educate our customers about the best way to handle the American flag. We provide flag etiquette information on our website about how to Display Your Flag, Flag Code, How To Fold Your Flag, a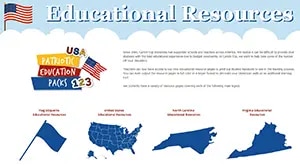 list of Flag-Flying Holidays and the rules around Flying Your Flag At Half-Staff. We even offer the service of Email Notification and social media posts to notify you when your flag must be flown at half-staff. In 2019, we extended our educational outreach to elementary and middle school students by providing Free Educational Resources about Flag Etiquette, the United States of America and the individual states, starting with North Carolina and Virginia. Our plan is to eventually have educational resources about all 50 states to help students learn about each state's flag, state counties and unique state facts. Teachers can output these free resource pages to use as student handouts or to decorate the classroom. These resources have been especially helpful during the COVID-19 pandemic since teachers, parents and students were looking for additional educational tools to help with homeschooling while sheltering at home.
Conclusion
As you can see, Carrot-Top Industries' mission is to honor the American spirit by providing American-made products that build and promote patriotic, corporate and individual pride. We aim to help our customers enhance permanent facilities and the unique events that bring their communities together. Carrot-Top is a customer-first organization. We promise to build strong relationships by catering to our customers' needs rather than our bottom line.
This blog was updated on May 4, 2020.