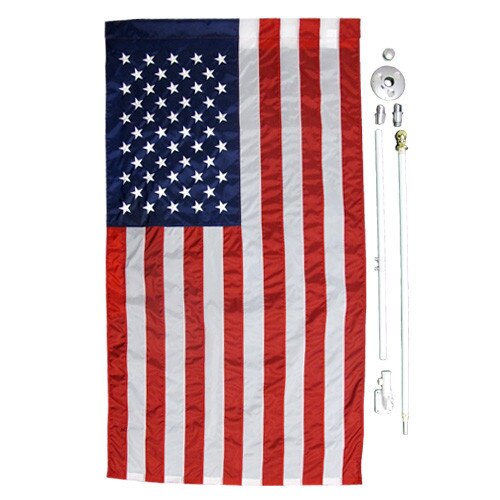 Deluxe Beacon® Flag Set With Solar Light
Details
Deluxe Beacon® Flag Set with Solar Light displays the American flag on a spinning white, aluminum pole. A solar light, specifically designed to attach to this outrigger pole set, allows for nighttime display of your flag.
Recommended for use in areas with light to moderate winds
Display flag at multiple angles with white adjustable bracket
Sets include:
- 3' x 5' Beacon® Nylon American flag
- 6' L Two-Piece Aluminum Spinning Pole (1" diameter) with gold ball top
- (2) Plastic Flag Collars
- White Adjustable Bracket
- Saucer shaped solar light (5" Dia. X 1.25"H)
3' x 5' Beacon® Nylon Flag is made in the U.S.A.
Why buy Deluxe Beacon® Flag Set with Solar Light?
The Deluxe Beacon® Flag Set with Solar Light offers versatility and convenience. Display your flag from multiple angles using the adjustable brackets. Buy these flagpole sets to display your American flag with pride and patriotism. The 3' x 5' Beacon® Nylon flag features leather tabs inside the sleeve to keep it attached to the pole. The Non-Tangle Spinning Pole kit with US Flag and Solar Light will mount directly onto the side of your house or building with screws or bolts included in the set. Stainless steel bands may also be purchased separately to mount the set onto a pole. The solar light in the kit illuminates using very bright LEDS (20 Lumens) which shine down onto the flag. Two (2) small 2.25" L x 1" W solar panels on the top of the light charge the single AA battery. (Battery is rechargeable.) The light should be charged for 72 hours in direct sunlight prior to first use. Lights will not work properly if there are too many strong light sources surrounding the property. The solar light in this kit easily attaches to almost any 1" diameter outrigger pole. Carrot-Top also provides a Deluxe Beacon® Flag Set, Mansion Set, Solar Light and 3' x 5' U.S. Flag Sleeve. For more information, please fill out our Contact Us form and one of our Customer Care Representatives will be in touch with you!