THE COMPLETE GUIDE TO BUYING U.S. STATE FLAGS FOR YOUR BUSINESS OR ORGANIZATION
There's no better demonstration of state pride than flying American state flags proudly at your business. It's a beautiful way to celebrate your state's unique heritage and demonstrate your commitment to making it a great place to live and work.

While it seems like flying a state flag is a simple decision to make, it actually triggers several decisions that require a fair amount of thought. If you're reading this article, you've already made the decision that you want to display your state flag at your business. That's great!

Next, you need to figure out where you want to display it. Inside or outside? Hanging against a flat surface or flying on a flagpole next to the American flag? Will your flag be displayed in a large space with very little décor, or does it need to blend into an existing aesthetic? Does your flag need to withstand harsh weather or will weather not be an issue? Answering these questions will help you determine the fabric and size of your state flag.

Knowing how and where you'd like to display your flag will guide your next decision: choosing your flag's fabric and size. Polyester and nylon are the most popular flag material for U.S. state flags. However, another type of material might be better, depending on your needs. When it comes to size, maybe you need several handheld flags to line a pathway. Maybe you need a large, 6' x 10' flag to fill out an open space. Or maybe your needs fall somewhere in the middle.

Next, it's time to figure out how much state flags for sale cost. The cost of your business' flag will be determined by the fabric, size, number of flags needed, and any accessories, such as flagpoles or lights. The manufacturer or retailer you choose will also influence cost. For example, a flag made overseas is typically cheaper than one made in the USA. And even though flags made overseas offer a cost-savings, their quality is questionable, so you may need to purchase replacement flags more often.

Clearly, there are many small decisions that go into purchasing state flags for your business or organization. Don't let this overwhelm or discourage you from adding a state flag to your indoor or outdoor décor. That's exactly why we at Carrot Top Industries made this buying guide—to walk you through the state flag buying process step-by-step. As experts in Maryland's state flag was designed to mirror the shield in the coat of arms of the first Lord Baltimore, George Calvert. The American state flags for more than 40 years, you can trust us to guide you in choosing a state flag for your business or organization.
Why Buy State Flags Anyway?
For a lot of businessowners, flying an American flag at their place of business is a no-brainer. The American flag sends a message of tradition and unity recognized by all Americans. But there's something extra special about flying your state's flag.

U.S. state flags are a symbol of unique traits that distinguish each state from one another. They often indicate the specific contributions that each state has made to our great country. For example, Maryland's state flag was designed to mirror the shield in the coat of arms of the first Lord Baltimore, George Calvert. The North Carolina flag April 12, 1776, the date when state delegates were given authorization to vote for independence.

In our experience, there are three main reasons to fly state flags at your place of business:
Appeal to local business lovers. Few things indicate that you're a local business more than displaying your state's flag somewhere in or around your office. Maybe your business depends on support from consumers and partners within the state. Or maybe your business could benefit from some local brand awareness, even if your target audience isn't state-specific. Perhaps you're trying to fill job openings and want to attract candidates who are just as passionate about your state and local business as you are. Regardless of your business or organization's specific needs, displaying American state flags somewhere people can see them—in person, on social media, or during Zoom calls—can help you attract more customers, partnerships, and job candidates who share your values.
Decoration. Many Americans think that their state's flag is the best looking out of all 50 state flags. At Carrot-Top Industries, we say they're right. There's something beautiful or striking about every state flag. State flags are versatile enough that they can blend into your organization's current decorative scheme or serve as a standout piece, depending on the look you're trying to create. Either way, decorative effect is a perfectly legitimate reason to display your state's flag at your business. Your state's flag should always be an option when you're thinking about adding to your décor.
Complement the American flag. Sometimes the U.S. flag can hang or fly brilliantly on its own. Sometimes your flag display could use a bit of extra detail. All state flags complement the U.S. flag in some way, and hanging or displaying them together creates a stunning effect. For example, New Mexico's is widely known as one of the most striking American state flags. Its bright yellow background and red Zia sun sign complement the stars and stripes of the United States of America flag beautifully. Just make sure that the American flag is one size larger than the accompanying state flag.
What Types of State Flags are Available?
If you think there are only 50 U.S. state flags, you're wrong. True, there are only 50 states and each state has only one dedicated state flag. But when it comes to types of state flags for sale, your options are endless. Below are the most popular types of state flags available at Carrot-Top Industries.
Outdoor State Flags. With fabric options designed for any type of weather, outdoor state flags convey your love for your state in rain, wind, snow, and shine. Fly your outdoor state flag on an inground pole outside of your business or hang it above the entrance to your building. Line the pathway to your front door with small state flags. Or purchase a banner state flag and hang on an outrigger pole for a truly impressive outdoor display.
The display ideas for indoor U.S. state flags are truly infinite since weather is not an issue. With all types of fabrics and sizes at your disposal, you can unleash your creativity. Fly your flag on a standing flagpole in your reception area to impress visitors. Display your flag in a frame above your desk for a vintage "good old days" look at your small business. Use a wall mount to hang a large-sized flag on an empty wall in your conference room.
Complete your state flag display by purchasing a set. Along with your beautiful flag, you also get your preference of a 3'x5' or 4'x6' elegant flagpole. Carrot-Top flag experts can guide you in curating the perfect flag display that honors your state.
50-State Flags Sets. If you need or want to represent all 50 states in your flag display, state flag sets are the way to go. Perfect for schools, memorials, and government agencies or locations, American state flag sets make a strong statement that you support the rich diversity within every state of the USA.
Mini State Flags. Miniatures are always enjoyable. American state flags are no exception. These are a fun way for your office to celebrate state pride. Place one in a holder at every desk. Display them discretely in common areas such as bathrooms and breakrooms. Place them in your reception area for visitors to take with them. Mini flags make it easy for everyone to express love for their state.
Looking for additional flags to complement your state flag setup? Here are some great options:
What Fabric Should I Purchase For My State Flag?
Now that you know what type of American state flag you want, it's time to determine the right fabric for your needs. This decision will be determined largely by whether you're displaying your flag outdoors or indoors. It will also be determined by where specifically you'd like to hang it—inside or outside, on a wall, on an inground or standing pole, in a frame, on a desk, in an area with harsh weather, etc.

At Carrot-Top Industries, all of our American state flags for sale come in two types of fabric: nylon and polyester.
Nylon for U.S. State Flags
If you envision flying your state's flag indoors, or outdoors in moderate weather from time to time, we recommend that you purchase a flag made of nylon. Nylon flags are a great choice because of their versatility. They're durable enough to maintain its high quality, color richness, and slick feel, yet light enough to blow beautifully in a soft breeze. If made with Nyl-Glo nylon, manufactured in a USA-based facility and cared for properly, your state flag will last for years.

There are many ways you can display nylon state flags. Need inspiration? Here are a few ideas:

Ready to explore nylon state flag options? All of our indoor state flags are fashioned in our Beacon® premium nylon material. Crafted by our U.S. flag makers with 40 years of experience in the flag industry, these best-sellers from Carrot-Top are:
American made.
Fade- and fray-resistant.
Ready to hang with all-brass grommets.
Backed by a team of America-based customer service representatives.
Covered under the Carrot-Top warranty.
Polyester for U.S. State Flags
If you're planning to fly your state flag outdoors every day, especially in an area with harsh temperatures, wind, rain, or snow, we recommend that you choose a flag made of polyester. Polyester is a more heavy duty, durable fabric than nylon. It is dyed and treated to maintain its quality during even extreme weather conditions. In fact, high winds can help your flag blow beautifully, as more wind is needed for polyester flags to fly. Just as with nylon, if your polyester flag is made with the highest quality material such as Tough-Tex, two-ply polyester, created in the United States, and inspected regularly, it will stay in great shape for many years.

If you need ideas of how to display polyester state flags, try these popular options:
Hang on an inground flagpole at the entrance of your office building.
Attach to company powerboats or sailboats.
Attached easily to a flagpole, such as our Majestic Telescopic Pole or Halyard Aluminum pole pole sleeve, canvas header, and grommets.
All of Carrot-Top Industries' outdoor state flags are made with our premium Patriarch® polyester. These premium outdoor flags are designed with the utmost care, quality, and attention to detail by our experts who have manufactured flags for more than 40 years. With every polyester state flag you purchase, you can expect:
Brightly saturated and fade-resistant colors.
Fray-resistant polyester material.
High-quality canvas header, pole sleeve, and brass grommets for easy flagpole attachment.
Backed by Carrot-Top's warranty.
Made in USA.
What Size State Flag is Most Suitable for My Business or Organization?
The size of your state flag should be determined by how you envision displaying it. We offer a wide range of sizes at Carrot-Top Industries. Whatever your flag needs are, we have the sizes that can accommodate them. Below are our most popular state flag sizes: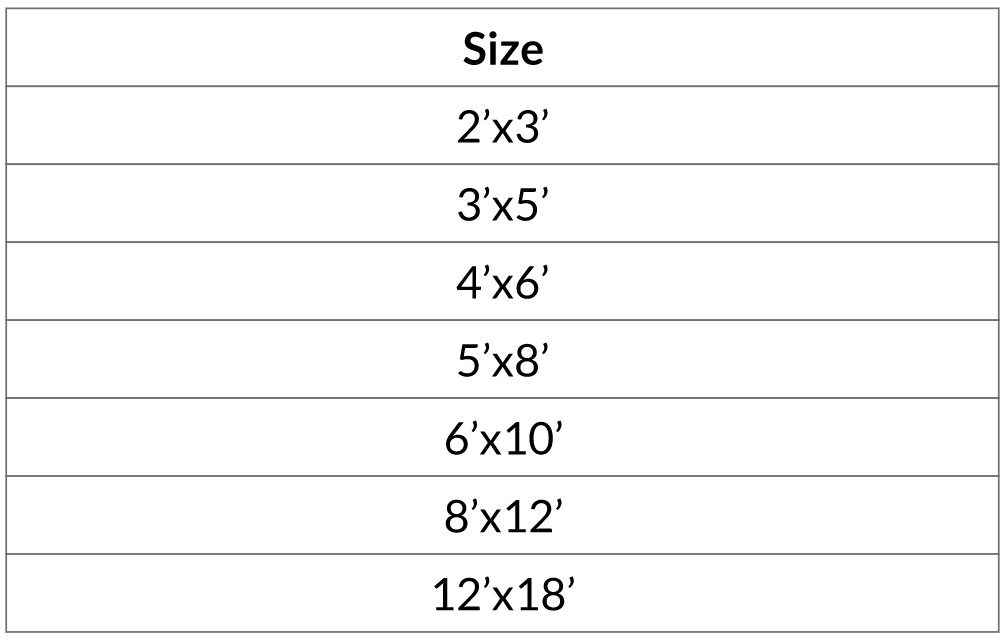 It's important to note that cotton fabric is not suited for all types of weather or being hung or displayed outside for long periods of time. While cotton is a durable fabric, colors can bleed when a cotton flag becomes wet and takes quite a while to dry. Additionally, cotton wrinkles easily and weakens under prolonged exposure to the sun.
If you're looking to add a decorative touch to your indoor or outdoor décor, consider sizes 2'x3'-5'x8'. These sizes, as well as the size of stick flags, are perfect to place on your workers' desks, hang at your office building entrance, display in a frame in your office, and wave in parades or company gatherings.

If you envision featuring your state flag more prominently, or if you're a government agency or business with certain size regulations, consider sizes 6'x10'-12'x18'. With these sizes, you can display American state flags loud and proud. That might look like a large 24/7 inground display next to your American setup with flagpole lighting. It could also look like filling an empty wall in a meeting room or gymnasium with a large hanging state flag.

With virtually any flag size available at Carrot-Top Industries, you can create the exact setup you want. Whether you want to add small details of state pride around your office or make a grand statement of allegiance to your state, we have the exact flag sizes you need.
How Should I display My U.S. State Flag?
We've said it before, and we'll say it again. There are almost infinite ways to display American state flags. While Carrot-Top Industries recommends many of the most popular ways to display state flags, we always discover more as our customers get more and more creative.

To get you started with creating your own state flag display, we'll list some of the most popular options for both indoor and outdoor uses.
Indoor Display Ideas for American State Flags
When your display isn't contingent upon the weather, you have almost free reign to display your state flags however you like. If you're hanging your state flags with the American flag, there are certain regulations you need to follow, but other than that, your state flag display can follow your personal preferences.

Indoor display ideas for American state flags:
Place stick flags in small holders on desks, cafeteria tables, breakroom surfaces, etc.
Hang on office or breakroom walls with college and sports flags on gamedays.
Hang on an indoor flagpole such as Majestic Telescopic Indoor Pole, in prominent locations, such as in reception or waiting areas, meeting halls, conference rooms, etc.
Hang framed or unframed on the wall of your personal office or somewhere in your building.
Outdoor Display Ideas for American State Flags
Your choice of outdoor state flag displays must consider the typical weather conditions of your area. You also need to decide whether you're going to hang your flag outdoors all night or lower it at sunset. Both of these factors will dictate what your outdoor display looks like.

Outdoor display ideas for U.S. state flags:
Fly on inground or above ground commercial flagpoles at or leading up to your office building's entrance.
Mount on sailboats or powerboats emblazoned with your company logo.
Hang off a window, the side of your building, or streetlight poles with pre-mounted flagpoles.
Mounted on your company vehicle during parades or gatherings.
American and State Flag Regulations
If your state flag setup also includes the United States flag, you need to follow the associated rules and etiquette. Our country's flag is the ultimate symbol of freedom. As such, the U.S. government created specific ways to honor the flag when it is flown or hung alongside state and other flags. Here's what you need to know:
When hanging the American flag on the same flagpole as state, city, company, or custom flags. Hang the U.S. flag at the top of the pole above the other flags. The U.S. flag must have the most honorable position.
When displaying the U.S. flag in a group of 5 or more standing flags. The U.S. flag must in the center and at the highest point. Remember to hang the U.S. flag at half staff, or half mast, during times when the country or your state is mourning.
When integrating the American flag into a platform or podium displays. The U.S. flag should be placed to the speaker's right and the audience's left, while state flags, MIA flags, feather flags, and/or other custom flags are on the opposite side. If hanging the American flag vertically or flag, it should be above and behind the speaker. State flags and additional flags must be placed to the right of the American flag.
When flying the American flag 24/7. As the United States Flag code states, proper illumination is needed for flags that are displayed all day and all night. If you plan to fly the American flag and state flag setup 24 hours per day, you'll need a reliable lighting source.
How Much Do State Flags for Sale Cost?
At Carrot-Top Industries, we strive to provide you with high-quality flags at a price that's both affordable and helps us stay in business. To help you budget, check out our sample pricing below for purchasing American state flags in bulk for indoor and outdoor uses.
State Flags Pricing from Carrot-Top:
Indoor American State Flags
Outdoor American State Flags
Industry News
What Does My State Flag Mean?
Explore the unique heritage of every U.S. state flag.