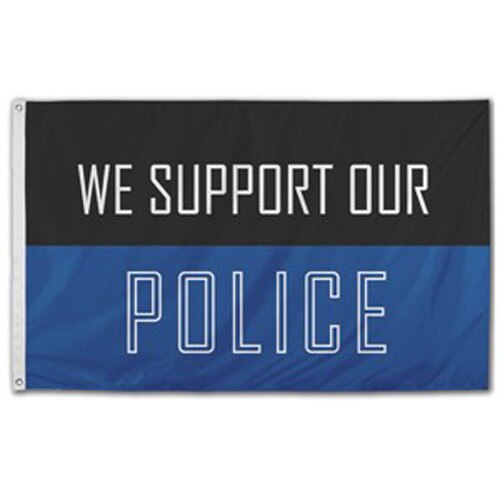 We Support Our Police Flag - 3' X 5' Nylon
Details
Our 3' x 5' nylon "We Support Our Police" Flags honor the courage and bravery of police and law enforcement officers with a sign of appreciation and support.
Inexpensive alternative to a custom flag
Crafted with superior, 200 denier nylon
Fly end has four rows of stitching for added durability
Finished with canvas heading and brass grommets
Made in U.S.A.
See below for more information
The "We Support Our Police" flag features an appropriately designed black and blue background, which is split evenly with the black on the top and blue on the bottom. Bright, white print allows for the "We Support Our Police" lettering to stand out for everyone to see. These outdoor flags feature a durable canvas heading and brass grommets. This flag is designed to be flown on your commercial or residential flagpole with snaphooks or your spinning flagpole display with flag collars, which are included with the purchase of a home flagpole and bracket set.
As well as the "We Support Our Police" flag, Carrot-Top offers a wide range of sizes and styles of Civil Service flags available for outdoor and indoor use. Including but not limited to Police Officer mourning flags, flags for the Fire Department, Sheriff's Department, EMS and Red Cross are also readily available. Always a classic and traditional addition, our United States outdoor flags and indoor sets are a great accompanying set when honoring and remembering our Civil Service areas and those who serve them. For more information, please fill out our contact us form and one of our Customer Care Representatives will be in touch with you!