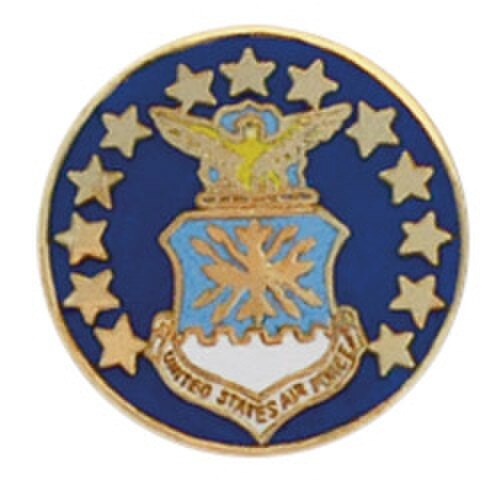 Details
Our Air Force pins feature the designated insignia of the U.S Air Force with the signature blue in the background. These pins feature sharp, detailed graphics making for a high quality lapel pin.
Air Force pins are a great gift to a current or past member of the Air Force to celebrate their service to the country. The pins also feature a clutch back closure for an easy and safe attachment to any article of clothing. For more information about these Air Force pins see the description below.
Our Air Force pins feature the trademark blue of the Air Force and the official insignia. The Air Force insignia consists of an eagle perched on a blue and white wreath in front of a cloud. Below the eagle is the Air Force's signature blue and white shield with gold lightning bolts in the center, a sign of its striking power. The 13 stars, signifying the original 13 colonies are also seen pictured on the top half of the Air Force pins. The Air Force pins come fitted with a clutch back closure allowing for secure attachment to any fabric or piece of clothing.
Our Military and memorial products range consists of official military flags with designated colors and insignia. Other products include POW MIA flags, yellow ribbon products, custom welcome home banners and Carrot Top's unique Support our troops flag. Our American flags are of the highest quality and ideal for long term outdoor or indoor displays. For more information about our products please fill out our contact us form and one of our Customer Care Representatives will be in touch with you!